If you're a third-party seller on Amazon then it's likely your sales will vary slightly day-to-day. However, some sellers can be doing just fine when all of a sudden they'll experience a drop-off in sales! This post will explore some of the reasons why a sales slump may occur and what sellers can do if this situation arises.
1. Have You Lost the Buy Box?
With close to 83% of all sales going through the Amazon Buy Box, all third-party sellers who want to be successful on Amazon should be aiming to win their share of the much-coveted Buy Box. Amazon will rotate the Buy Box between sellers it deems to have met its high standards.
If you're the only person selling your product on Amazon, then you'll be fine (for now). However, if there are multiple sellers of the same product, then you'll all be competing for the same Buy Box.
If you had the Buy Box and suddenly lost it or it's now being shared between more sellers than before, then this could explain why your sales have dropped suddenly.
How can you see if you're the Buy Box winner?
If you're a RepricerExpress customer, you can quickly see your Buy Box performance on the dashboard, including those listings that have recently lost the Buy Box. Alternatively, you can find this information within your Seller Central account.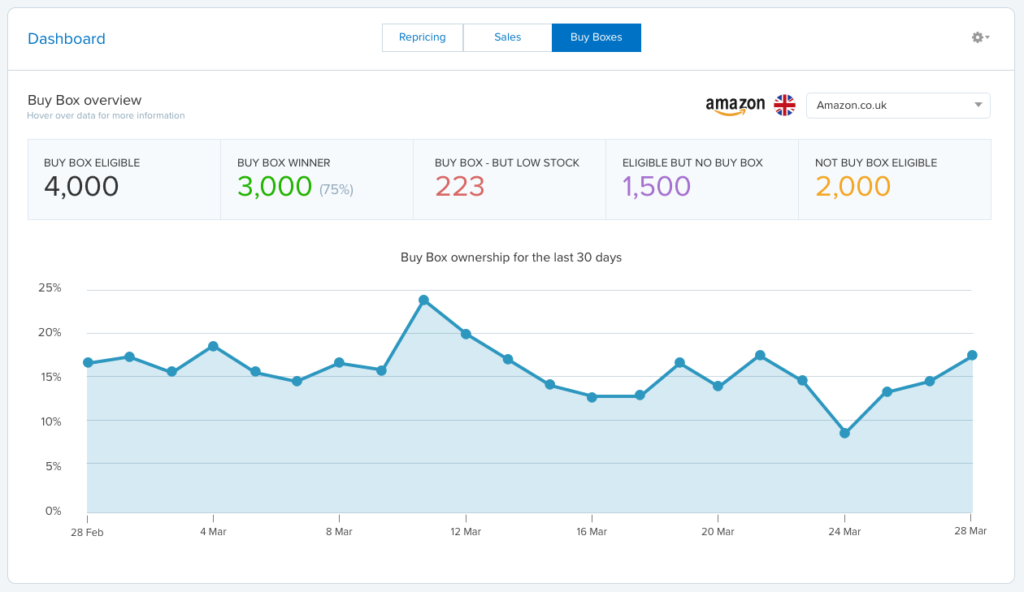 To retain the Buy Box, you need to ensure you're competitively priced (repricing software can help with this) and your seller metrics (including feedback) remain healthy. Which brings me seamlessly on to reason number two…
2. Have You Received Bad Feedback Recently?
Buyers on Amazon can leave feedback in two ways: for the seller (known as seller feedback) and for the product they've purchased (known as a product review).
If you're a private label seller then a 1-star product review could dramatically impact on sales. Likewise, a bad seller feedback review can also be harmful to your sales.
If you receive bad seller feedback, you should examine it to see if it is within Amazon's feedback guidelines. For example, if the customer leaves a product review as seller feedback or if you're an FBA seller and the feedback is about shipping, then Amazon will remove this feedback, so it doesn't affect those all-important seller metrics.
Legitimate feedback can be removed by the customer so work with them to try to resolve any misunderstanding or issues they had with the product/service. However, you shouldn't ever pressurise a seller into removing feedback. Also, keep an eye out for neutral (3-star) feedback and treat this in the same way as you would a 1-star or 2-star review.
Learn how to remove a negative review on Amazon.
3. Search For Your Product as a Customer
If you experience a sudden drop in sales, they try this. Put yourself in your customer's shoes and search for your product as you think they would.
Is your product visibility good?
If you're not on page one, this could be the reason why your sales have declined. Check how your product is being displayed on mobile.
Ensure you've listed your products correctly with the right keywords and your images are up to scratch. If not, then update your listing accordingly.
Another worthwhile exercise is to check your product page views (this can be found within Seller Central > Business Reports) to see if there have been any dramatic changes.
Related: 9 Tips for SEO and Keyword Research for Amazon Sellers
4. Could It Be a Seasonal Trend?
Depending on what you sell, you may experience months/quarters of the year when sales are slower.
For example, if you sell sunglasses then you're likely to sell more during summer months as people head away on holiday or if you sell fancy dress costumes, then you'll be expecting a busy October as people prepare for Hallowe'en.
It's good practice to keep track of your monthly and yearly sales figures so you can identify any seasonal trends.
For all sellers, sales should increase in Q4 around Black Friday and Cyber Monday as buyers purchase gifts for the holiday season, so make sure your popular products are well stocked up.
5. Has a Sales Promotion Ended Recently?
Many Amazon sellers will choose to run promotions throughout the year to boost sales and product visibility. If a promotion has recently ended, this could be the reason why your sales have suddenly slumped.
Keep track of any campaign dates that you may be running on Facebook or other channels to drive sales.
6. Check your PPC Campaigns
Many Amazon sellers use Amazon PPC ads and Google Adwords to drive traffic to their product listings.
An Amazon PPC campaign may directly affect a sales slump if your payment method has been declined or the Amazon Sponsored Ad campaign ends.
Likewise, with Adwords, campaigns may be put on hold if your credit has run out or your ad doesn't comply with Google's criteria.
Related: Structuring Your Amazon PPC Campaign
Final Thoughts
Every seller will experience a slump in sales at some point. Investigate the reason(s) why this might have happened using this guide and your own skills/experience.
Here are four questions you can ask yourself:
What are your competitors doing?
What are your buyers doing?
How are your prices compared to your competition on your best-selling items?
How are the reviews on your best-selling items?
Hopefully, the slump is temporary and things will even themselves out over the year. Keep a close eye on your seller metrics and keep your prices competitive.
Our repricing software, RepricerExpress, makes it easy for you to stay competitively priced 24/7, leaving you to focus on other areas of your business…plus there's a free 15-day trial for you to try us out.