Selling online is almost always going to be price-driven because you will almost always have competitors. You can offer free gifts, you can offer great customer service, free delivery and returns and more but it's essential that you also remain competitive on price — especially on Amazon. 
To price competitively on Amazon, you have two options — manual repricing or automated using an Amazon repricer. The choice is yours and will be dependent on how many products you are selling and how much time you wish to dedicate to this vital area of your online business.
For those sellers choosing to go down the automated path, we've compiled a list of the leading Amazon repricers on the market right now. It doesn't matter if you're selling books on Amazon or media, a repricer can save you time and increase your sales.
Let's take a look at the best Amazon repricers available for sellers.
Best Repricers for FBA Sellers
Important: When it comes to Amazon repricers — they are not all equal.
There can be major differences in costs, repricing speeds, customer support, user interfaces, what marketplace they support and more.  Some will offer greater customisation opportunities in terms of who you want to compete with or not. Also, some Amazon repricers will not be available to users from certain countries.
For those new to repricing, you might find it useful to try out a few different repricers (many offer a free trial) and see which one works best for your business based on your needs and budgets.
What works for one business, might not work for yours.
Things to Consider When Choosing an Amazon Repricer
Here are some things to consider when choosing an Amazon repricer.
What marketplaces does the repricer work on?
How much does it cost each month?
Are you tied to a long-term contract?
How quickly are your listings repriced?
Do you have to pay extra for continuous repricing?
Will you pay commission on your sales to your repricing software provider?
What flexibility and control does the repricer offer?
Can you choose who you want to compete with and how?
Is there a free trial? Do you need a credit card to avail of this?
So, with that in mind, let's have a lot at some of the leading Amazon repricers on the market right now.
How Amazon Repricers Work?
In a nutshell, an Amazon repricer will use the pricing rules and settings you set including your min and max prices to automatically manage your Amazon prices and keep you competitive 24/7.
Amazon Repricing Software Comparison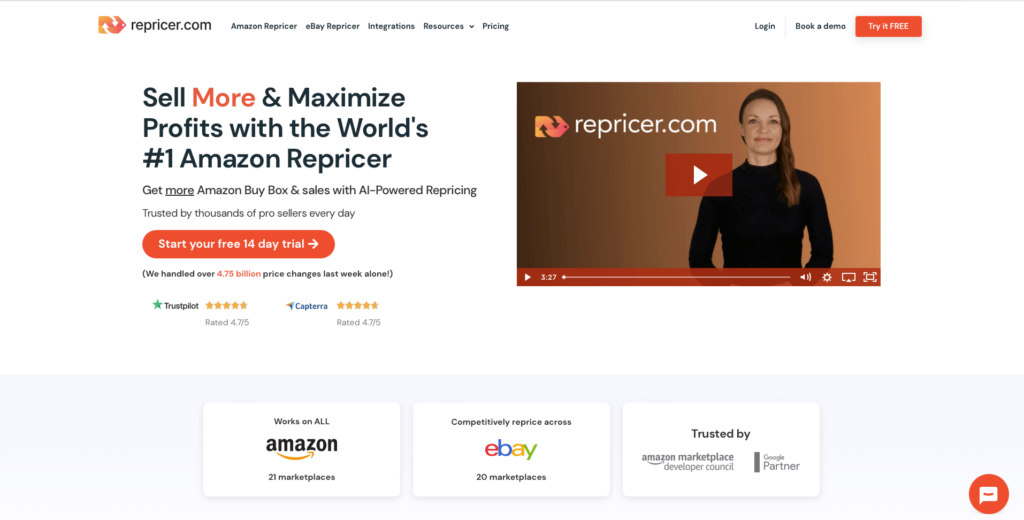 Increase your sales and profits with Repricer.com which includes net margin repricing and profitability analytics.
The software works across all Amazon marketplaces, eBay, Shopify and Walmart. They are a member of the Amazon marketplace developer council according to the homepage.
Free Trial: 14-day free trial, no credit card needed.
Pricing: Express plan: 5,000 listings, $85 per month; Plus plan: 50,000 listings, $259 per month; Ultimate plan: 250,000 listings, $409 per month; Extreme plan: 1m listings, $1,249 per month. Price listed based on paying annually.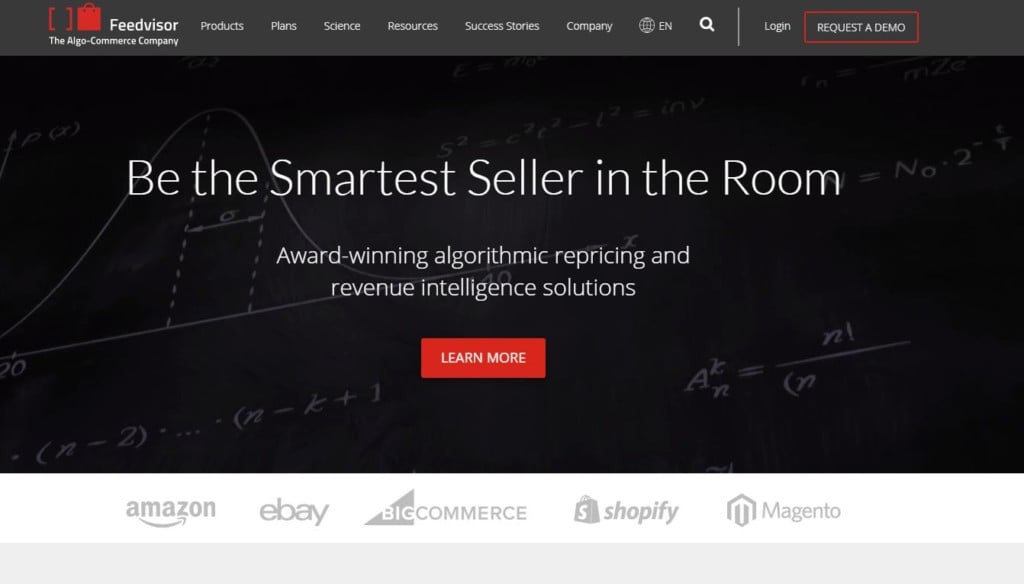 Feedvisor is an Amazon algorithmic repricer designed to increase your Amazon revenues and profits. It describes itself as "award-winning algorithmic repricing and revenue intelligence solutions".
Free Trial: No
Pricing: Not specified
3. BQool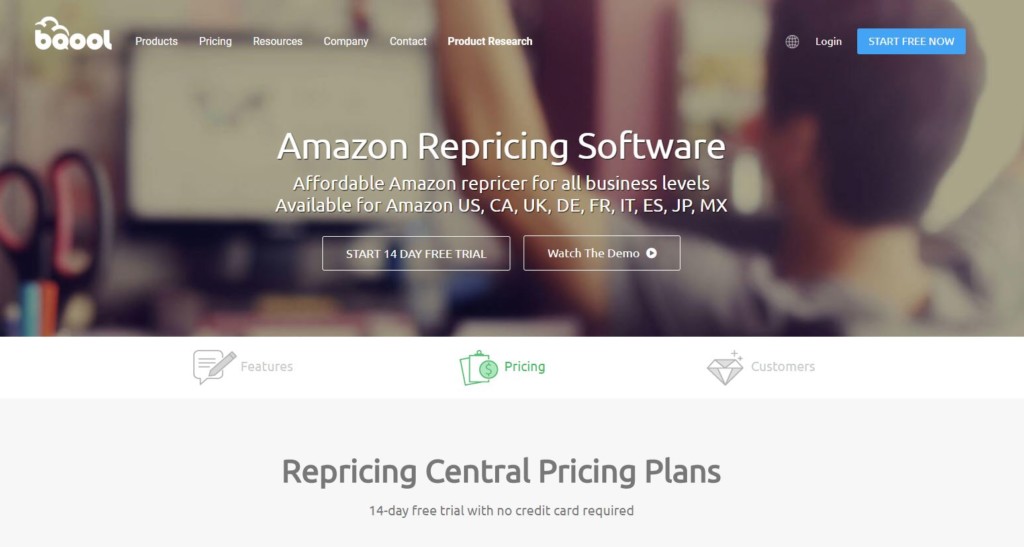 BQool's Amazon repricer tool is called Repricing Central. It states it is an "affordable repricer for all business levels".
Repricing speed is every 15 minutes for 1,000, 5,000 and 15,000 SKU plans and every 5 minutes for sellers on the 10,000 SKU plan.
Free Trial: 14 days
Pricing: 1,000 SKUs, $25 per month; 5,000 SKUs, $50 per month; 7,500 SKUs, $75 per month, 10,000 SKUs, $100 per month.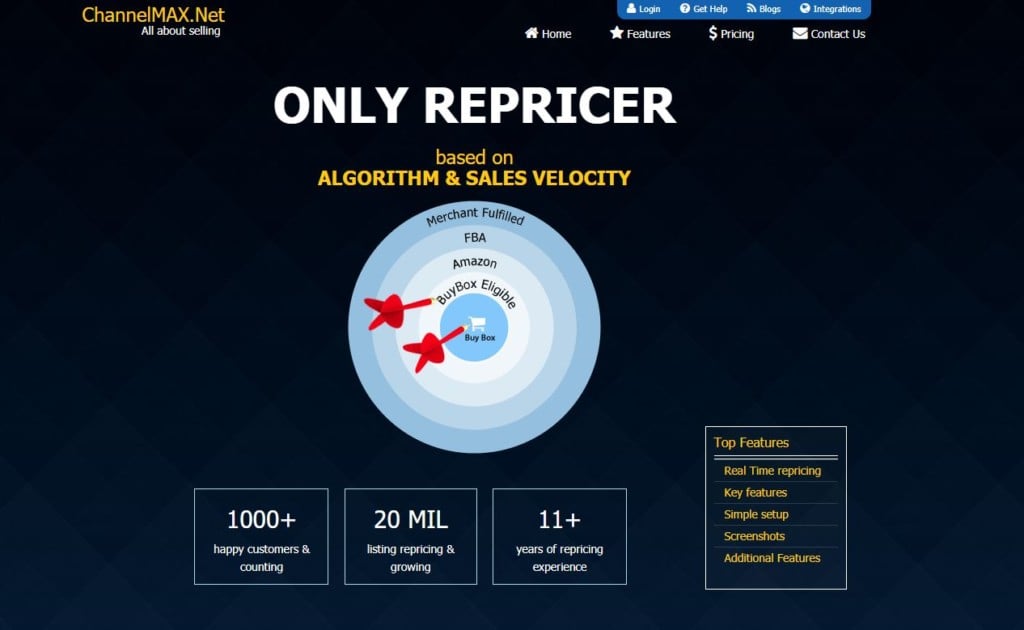 ChannelMax describes its Amazon repricer tool as the "only repricer based on algorithms and sales velocity".
Free Trial: 30 days
Pricing: 2,500 SKUs, $49.99 per month; 5,000 SKUs, $74.99 per month; 10,000 SKUs, $74.98 per month; 25,000 SKUs, $99.99 per month; 50,000 SKUs, $120.99 per month. Prices based on real-time repricing and more than one marketplace.
5. RepriceIt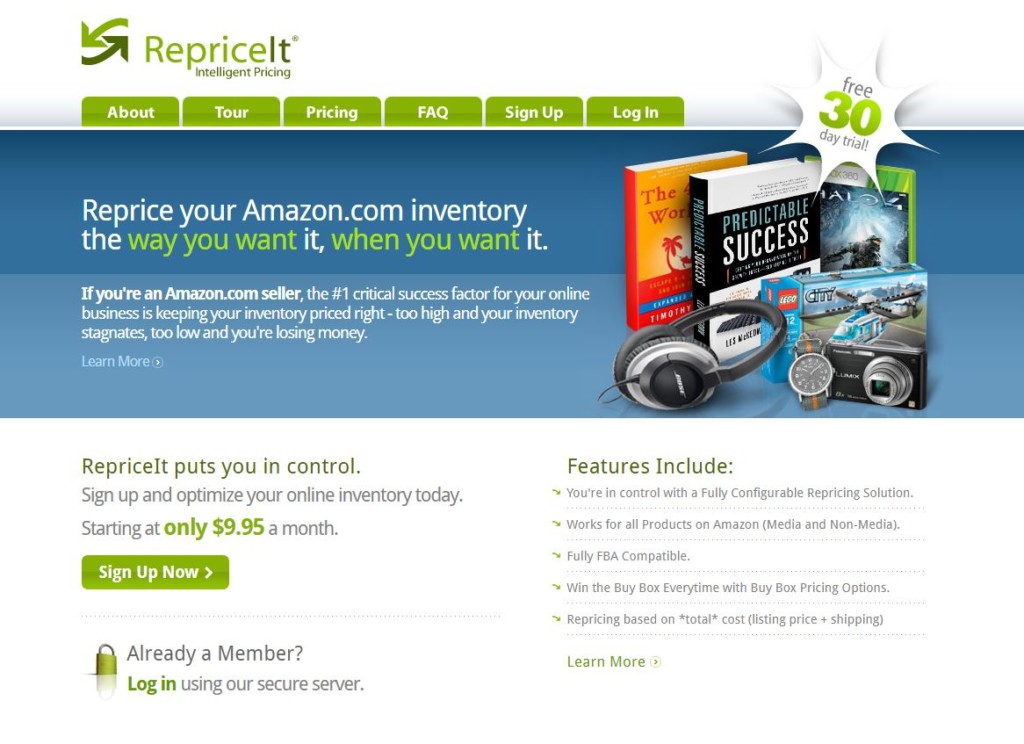 RepriceIt states you can "reprice your Amazon.com inventory the way you want it, when you want it."
Free Trial: 30 days
Pricing: 1-500 SKUs, $9.95, 501-2,000 SKUs, $16.95, 2,001-5,000 SKUs, $24,95, 5,001-10,00 SKUs, $29.95, 10,001-20,000 SKUs, $39.95, 20,001-50,000 SKUs, $59.95, 50,001-100,000 SKUs, $79.95.
6. Seller Dynamics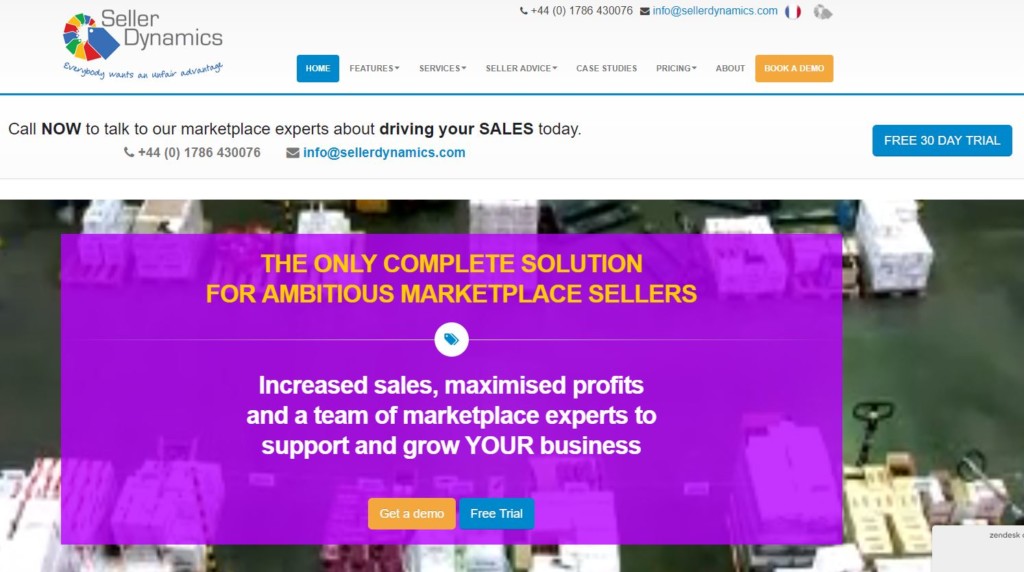 Seller Dynamics is another Amazon repricer. It states it is "the only complete solution for ambitious marketplace sellers".
You can choose from three different plans, some of which will take a percentage of gross sales.
Free Trial: 30 days
Pricing: 2,000 SKUs, $60 per month, Standard $25 per month plus 1.49% of gross sales.
7. Sellery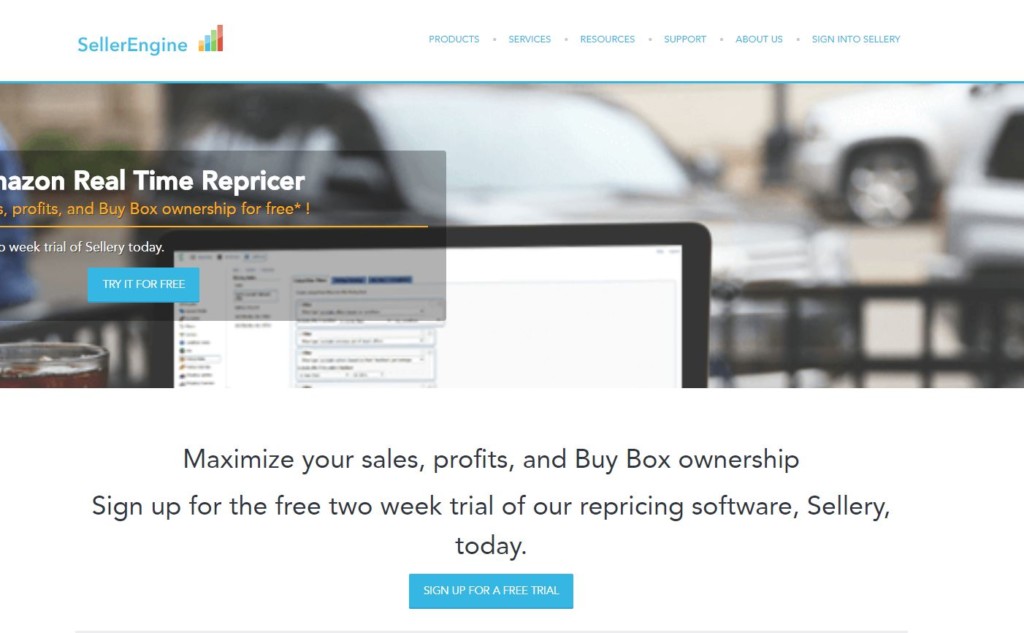 Sellery is an Amazon repricer which states on its site that it can help "maximize your sales, profits, and Buy Box ownership".
Free Trial: 14 days
Pricing: 1% of your gross monthly sales, with a minimum charge of $50 per month and a maximum charge of $2000 per month.

8. Informed.co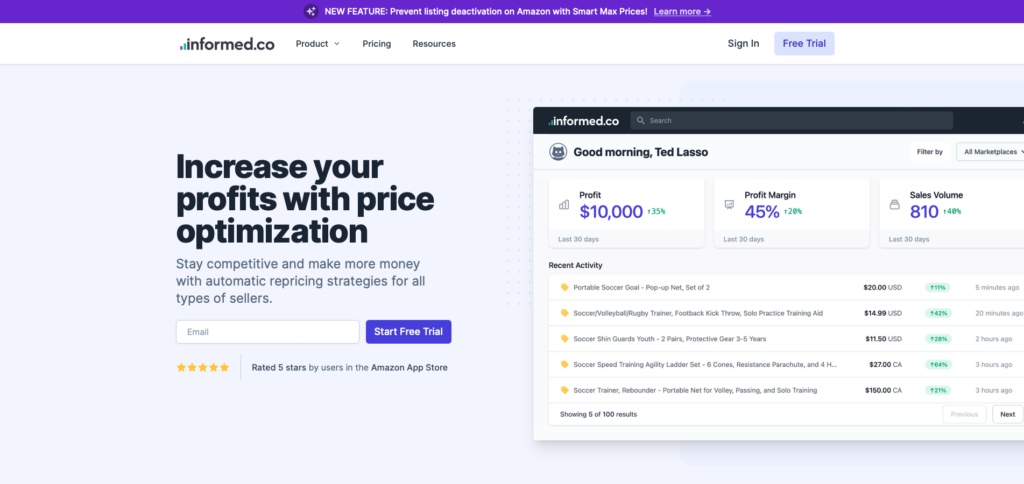 Informed.co states that it "empowers Amazon sellers with strategic automated repricing and critical insight".
No credit card is required and there are no long-term contracts.
Free Trial: 14 days
Pricing: 250 SKUs, $100 per month; 5,000 SKUs, $100 per month; 10,000 SKUs, $100 per month.
9. Profit Protector Pro
The new kid on the block and still in Beta at time of writing is Profit Protector Pro. As the software is invite-only at this stage there isn't much information in the public domain. We will aim to add more details when the software is fully launched.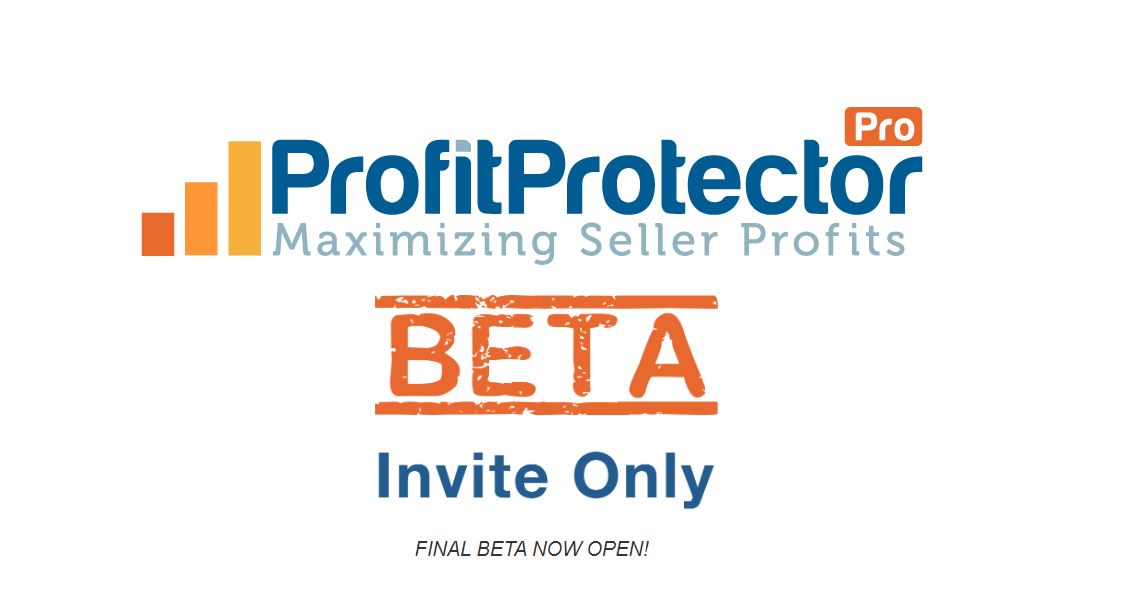 Free Trial: Unknown
Pricing: Unknown
The new kid on the block and it looks very basic in terms of functionality and UI. Nu Price describes itself as "the simple Amazon repricer" that allows you to reprice your inventory quickly with no blind spots. It works with Windows and Mac.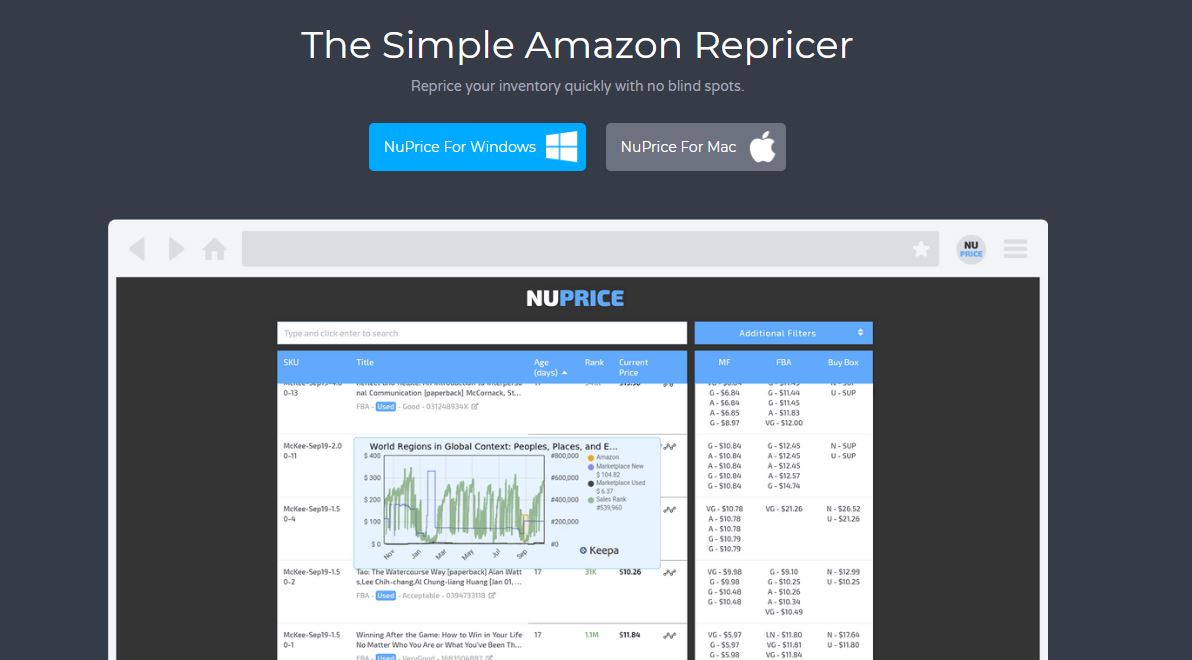 Free Trial: Unknown
Pricing: $14.95 per month.
Video: How Amazon Repricers Work
Conclusion
We hope we've given you a good guide to help you choose the right Amazon repricer for your business in 2023.
Whenever an Amazon repricer is used correctly, you're highly likely to win the Buy Box more often as well as increased sales and profits. It really is an essential tool for most serious Amazon sellers.
Whatever Amazon repricer you decide on is your call. We believe Repricer's Amazon repricing software is the best on the market for sellers on Amazon and eBay who wish to reprice in real-time. Try it free for 14 days, no credit card required.