When you start to add up all the fees you pay, you realise that selling on Amazon isn't cheap. But, the benefits of selling on the marketplace, namely access to its 310 active customers worldwide usually outweighs the cost of selling on the marketplace. Let's break down the Amazon seller fees you can expect to pay in 2023 when selling on the popular marketplace.
1. Monthly Subscription Fees
The first Amazon seller fee you'll encounter comes right at the start when you sign up for a seller account. You'll have the option of choosing either a Professional or Individual account, which will make a big difference down the road.
How much does Amazon take from sellers? Amazon's Professional seller account costs $39.99 each month.
With that fee comes the following perks:
No per-item fee for products when they're sold.
Inventory management with feeds, spreadsheets and reports.
Order management with reports and feeds.
The ability to use Amazon Marketplace Web Service when it comes to performing API functions (e.g. uploading feeds, receiving reports, etc.).
The ability to set your own shipping rates if selling items in Books, Music, Videos & DVDs (BMVD).
The option to run special listing features like promotions and gift services.
Eligibility for winning the Buy Box.
The ability to calculate US sales and to add on taxes to your orders.
The ability to upload products in bulk.
The ability to offer free gift wrap on items.
However, the Professional seller plan doesn't really make sense if you're selling fewer than 40 items a month. This is because the (free) Individual seller plan charges a fee of $0.99 on each item sold, so you could be paying more for your subscription plan than on fees for items sold. Here are some more distinguishing features of the Individual account:
No monthly subscription fee (sellers pay $0.99 instead on each item sold).
Shipping rates for all products are set by Amazon.
No ability to offer gift-wrapping.
Listings are uploaded manually instead of bulk.
Exclusion from selling in various categories like Jewelry, Shoes, Handbags, Art, Food, Luggage and more.
2. Sale-Related Fees
The next category of fees you'll encounter have to do with items sold, so let's dive into the sub-types.
Referral Fees
Think of this fee as the commission you pay to Amazon each time you sell a product on their marketplace. Often times, the referral fee is a flat rate (around 15% or a bit less), but it can change depending on the category in which the item was sold.
For example, selling in the Extended Warranties, Protection Plans & Service Contracts category means you're looking at a whopping 96% referral fee. Luckily, the other categories aren't nearly as high, with Amazon Device Accessories being the exception with a 45% referral fee.
To make things interesting, most categories have an applicable minimum referral fee, which means you'll be paying $0.30 if the referral fee percentage is lower than that. There are a couple of exceptions where there is no applicable minimum referral fee, such as in Books, Collectible Books, Entertainment Collectibles, Fine Art, Gift Cards, Grocery & Gourmet Food, Music, and Extended Warranties, Protection Plans & Service Contracts.
And then, just to make things even more interesting, some categories have different schedules of referral fees where the fee percentages are calculated based on sales in dollars. Sports Collectibles, for example, charges a 20% referral fee if the total sales price is $100 or under; that drops in half to 10% if the total sales price is between $100 and $1,000; it goes down even more to 6% if you can manage to sell items for more than $1,000. Roughly half or so of Amazon's categories operate like this when it comes to referral fees.
Variable Closing Fees
If you happen to sell in the Media category (BMVD, software, computer games, video games, video game consoles, etc.), then pull your wallet out to pay the extra $1.80 variable closing fee.
Refund Administration Fee
Let's say you just closed a sale on gizmos and received the payment for it, but Bob the Buyer decided he didn't want the gizmo after all and decides to return it. If this happens, you'll be refunded the money and referral fee you paid, but in exchange, you'll need to pay an applicable refund administration fee. This is either $5.00 or 20% of the applicable referral fee, whichever is less.
3. FBA Fees
There are three different kinds of FBA fees, depending where in the fulfillment process the order is.
Order fulfillment fees are charged based on the product's size and weight. Large and heavy products result in the highest fees, while small and light products have lower fees. If your item is 10 ounces or lighter, you're lucking out at the cheapest end of the spectrum by having to pay only $2.41. All the way at the other end is a fee for large oversize items (151 pounds or lighter), which is $75.78 AND $0.79/pound once you get above 90 pounds.
Monthly storage fees are charged because Amazon lets you use their warehouses to keep your products in instead of you having to store them yourself. This fee changes during the year, with January to September being $0.69/cubic foot and October to December being $2.40/cubic foot. However, if you're storing oversize items, the storage fee drops to $0.48/cubic foot and $1.20/cubic foot, respectively.
If you have the bad fortune of not being able to quickly sell items stored in an Amazon fulfillment center, then be prepared to see long-term storage fees on your bill. This fee is calculated twice a year (February 15, August 15) and is charged when items have been stored in the warehouse for longer than 6 months and longer than 12 months.
Related: How to Avoid Amazon Long-Term Storage Fees
Seller Tip: You can estimate FBA fees for your own products using Amazon's FBA fee calculator.
4. FBM Fees
FBM, or Fulfilled by Merchant (where the seller oversees shipping products), also results in fees, but they're quite different than the ones charged to FBA sellers. They're lower because Amazon recognizes the seller is responsible for shipping costs, but they're not entirely removed.
FBM sellers using the Individual selling plan are obligated to use the shipping rates set out by Amazon, even if the shipping credit works out to less than the total shipping cost. If this applies to you, it's crucial to price and reprice items carefully and aggressively so you don't get walloped by Amazon's rates.
However, if you're an FBM seller using the Professional selling plan, then you get a lot more flexibility because you get to choose your shipping rates. There's one exception that applies, and that's if you're selling in BMVD. If that's the case, then Amazon will give you a shipping credit that matches the shipping rate, which varies depending on the shipping method (e.g. domestic standard, domestic expedited, domestic two-day, international standard, and international expedited).
5. Miscellaneous Fees
Before you think you're out of the fees woods, there are a few other minor fees to consider before putting up products on Amazon.
The high-volume listing fee applies if you have more than 100,000 listed products, and then it's a monthly flat fee of $0.005 per eligible item, paid at the same time as your FBA storage fees.
Dangerous items (excluding clothes) have an extra FBA fee tacked on, which is between $0.06 to $0.16 per unit for standard size units. If the products are dangerous items-clothes, then the size-based fee rises slightly to $0.08 to $0.29.
If you sell textbook rentals, then Amazon will charge you $5.00 for each rental, which is charged at the time of the sale.
As an FBA seller, you'll have to ship your items to an Amazon warehouse so their employees can handle the fulfillment method. Most sellers put their items in boxes; if you want Amazon to use their boxes when sending out the item, then the fee is $0.15/unit for November to December and $0.10 the rest of the year.
Amazon has a "category" called Refurbished, where they spiff up not-new products and re-sell them. This is free by default, but you could see a fee if something makes the product ineligible for refurbishing.
When buyers return items to Amazon, they don't always keep the original box in good condition, or they might use a different box entirely. If this happens, Amazon will repackage the item for you and charge a service fee.
One of the perks of being an FBA seller is you get Amazon to handle most of the fulfillment load for you, including preparing and labelling your products for you. But this perk comes with a cost of $0.50 to $1.20 per standard size unit and $1.00 to $2.20 for oversize units. For multi-channel fulfillment sellers, you can also get (custom-made) packing slips at a fee of $0.07 per box. Lastly, you can also opt for Amazon applying barcodes to your products at the fulfillment center for a fee of $0.30 per unit.
Final Thoughts
In order to price your inventory correctly, it's vital you know the costs and fees of selling that item on Amazon. To stay competitive 24/7 on Amazon and win a share of the Buy Box, consider letting RepricerExpress's Amazon repricing tool take care of your pricing strategy. You'll free up time to spend on other areas of your business or to simply relax a little more.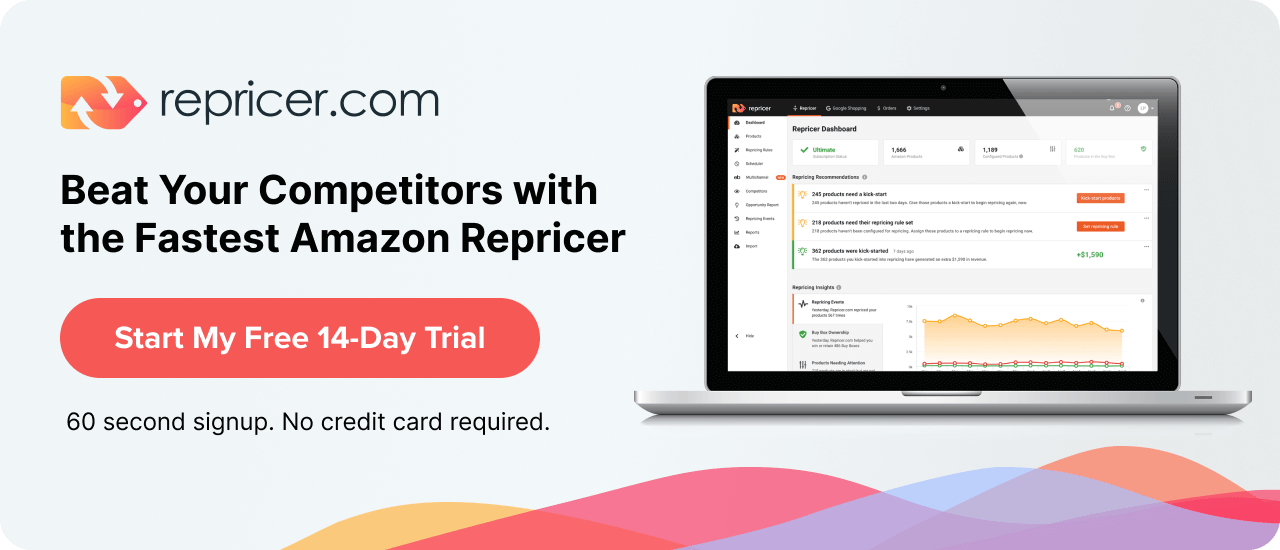 Related: Amazon FBA Fees