Learning the ins and outs of Amazon FBM, Amazon FBA and Amazon SFP is as easy as ABC. Well, it gets a little deeper than that, but with help from RepricerExpress, you'll learn which fulfillment method is the right one for you.
When you get started selling on Amazon, there are essentially three different Amazon fulfillment methods you can choose, each with their own benefits and drawbacks. Let's take a look at what each entails and what their pros and cons are.
1. Amazon FBM – Pros and Cons
With Amazon FBM, you're responsible for the entire fulfillment process. This can be very beneficial or very onerous, depending on what you sell and your personality as a seller.
FBM Pros
You get entire control over inventory storage and the fulfillment process, which means you can lower your costs significantly if you're good at finding deals.
You'll also pay lower fees to Amazon because you're in charge of everything.
If you're selling on more channels or places than just Amazon, being in charge of fulfillment makes it much easier to stock items and keep track of inventory.
How you package items is entirely up to you, so you can get really creative with this and further cement your brand imaging.
FBM Cons
Because you have limited involvement with Amazon, your products won't be Prime-eligible. It'll also be much harder to compete for a Buy Box. Not impossible, but very difficult.
Be careful of how you present shipping costs. The best method is to work it into the product price and advertise free shipping, but that's not always possible. If not, present your buyer with several shipping options and costs.
You run the risk of buyers being turned off by longer delivery times unless you make addressing that a priority with whatever fulfillment method you choose.
Check out what repricing strategies you can use within RepricerExpress for your FBM and FBA listing.
2. Amazon FBA – Pros and Cons
The Amazon FBA fulfillment method is when you arrange for products to go to an Amazon fulfillment centre and the Amazon staff take over from there. They'll take care of everything, from storing your items for any length of time to picking them for orders and delivering them to buyers. This kind of worry-free, hands-off service can be fantastic, but it's not without its costs.
FBA Pros
Being Prime-eligible opens you to more buyers and sales, as shoppers love the next-day or two-day delivery guarantee.
It becomes much easier to compete for the Buy Box.
You don't have to worry about how to store items, keep them organised, develop a picking and packaging system, and negotiate with delivery companies to send out products.
Customer service and returns are also handled by Amazon, too, so you can devote that time to something else when starting to sell online.
You're automatically eligible to use FBA in Canada, the United States, Europe and Japan, but you can use FBA to ship internationally, too. You can even use FBA on non-Amazon orders.
FBA Cons
This fantastic, hands-off, worry-free service does come with a cost, as you'll have to pay fees to cover fulfillment (the cost that covers picking, packing, shipping, packaging and processing returns) and monthly storage (be careful of long-term storage fees). This could become an issue if you sell big, heavy or slow-moving items.
While you're required to keep track of your inventory and top it up, you don't actually have any control in how it's stored, picked, packed and sent out.
Learn more about how Amazon FBA works.
3. Amazon SFP – Pros and Cons
If you qualify for Amazon Seller Fulfilled Prime, then you enter into a trial period where you can store your items in your own warehouse (that meets with certain criteria), then deliver them with the Prime badge and two-day guarantee, using shipping labels from approved carriers.
SFP Pros
You get access to Prime shoppers, which enables you to reach more sales with guaranteed delivery and compete better for the Buy Box.
Because you can use your own warehouse, you get full control over inventory, delivery, packaging and packaging inserts. This means you get to save more on the fees you pay to Amazon, too.
If you're looking to attract more buyers and sales, taking advantage of Amazon's Lightning Deals is an option with SFP.
SFP Cons
While Amazon will handle post-order customer service, they won't handle returns. You'll also be on the hook for those charges — and it might take a bit of time to get reimbursed from Amazon, if that applies.
You get to choose your own warehouse, yes, but the costs of renting space are entirely on your shoulders.
The same goes with maintaining FBA-level service. Guaranteeing delivery in two days isn't always the easiest thing, especially if you're a one-person show.
SFP isn't available in all countries, so you're limited to the United States, the United Kingdom, Germany and France.
Learn How to Ship Using Amazon Merchant Fulfilled
In the video below, top Amazon seller, Kev Blackburn shares his step-by-step demo of how to sell merchant fulfilled on Amazon.
You will learn the following:
How to add a product FBM on Amazon?
How to convert to FBM from FBA?
How to buy shipping?
How to process an order?
Final Thoughts
Sellers who deal with slow-moving items, shipments in multiple boxes, highly personalised or customised items, or without strong industry and logistics know-how would be best-suited for FBM.
For sellers who deal with multi-channel retailers; items that are personalised, customised, perishable, seasonal or require traceability; or have strong industry and logistics knowledge, SFP would be a great choice. And for sellers who list items that are small, light, fast-moving and relatively low-priced, FBA could be their top choice.
Whichever fulfillment method you choose, make sure you have RepricerExpress by your side to maximise profits. Plus, when you sign up now, you start with a free trial so there's nothing to lose!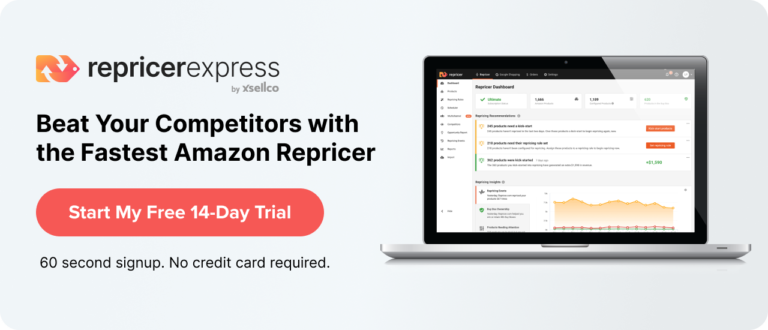 Related: Amazon FBA vs Dropshipping – Which Is Best for Sellers in 2023?