Dynamic Amazon pricing is one of the most efficient and fastest ways to grow your FBA business. Instead of rigidly adhering to a set of prices while your competitors offer more attractive ones — causing your customers to go to them instead of you — a good repricing solution will keep you in the game.
However, it's wise to use dynamic repricing smartly and RepricerExpress has three top tips you need to get ahead.
1. Be Strategic About Your Min and Max Values
We've all heard the horror stories of businesses losing a ton of inventory because they accidentally priced their wares at a penny or moved the decimal over to the wrong spot. It's not impossible for that to happen, but it is pretty unlikely. Any reputable repricing software will help prevent these mistakes so you don't lose traction as your Min prices prevent underselling.
Where a good repricing software comes in handy is by combining the best of your skills with the automation of technology. There's no comparison for the knowledge and intuition you've built up on Amazon and dynamic repricing software will never replace that, but it does correct for any possible mistakes you might make. All you have to do is sit down, crunch the numbers, and input your min and max values so your prices never sell at clearance rates.
2. Decide If Your Business Demands Dynamic Repricing
As an example, look at stores like Costco and Sam's Club that charge annual dues to shop there. They do so because, for the most part, the items they offer are far less expensive than you'd find in a supermarket or retail shop.
But — and this is the sticking point — you actually have to visit there a few times and make enough purchases for your membership to pay for itself. Repricing software is the same thing. If your Amazon business is more of a casual, side hobby for you where you sell a handful of products, it may be more costly than efficient. But if it's more in the realm of a full-time job, then, like a Costco membership, it'll pay for itself with all the new clientèle you'll be attracting.
3. Develop the Right Dynamic Pricing Strategy for Your Business
How you price your inventory will make a huge difference in how well your business does. There are essentially four different ways you can price and reprice:
Supply and demand: Unfortunately, with this strategy, you'll have little choice but to do what the market dictates. Sometimes it can work in your favour, like if you're selling faddish items (think: Tickle-Me-Elmo, Beanie Babies, etc.), and sometimes you'll have no choice but to cut your costs if your product isn't that much in demand.
Bargain binning: Slashing your prices until you're the cheapest Amazon seller can definitely draw in more customers because people just really like spending the least they can. Be careful, though, or else you'll get a reputation for cheap prices, which may contraindicate the quality of your goods.
Prestige pricing: Starbucks is one of the pricier coffee shops in the world, and many will argue that the quality of their coffee does nothing to warrant it. And yet, they're not only alive and doing well, but thriving. People will pay higher prices because there's an aura of prestige surrounding their purchase, and they want the status of being in a higher shopping stratosphere. Also be careful with this strategy because you may alienate your customers if there's no good reason for higher prices (e.g. books, DVDs, etc.).
Middle-of-the-road: This is the simplest strategy available, but the medium risk you take also results in medium rewards (also known as "playing it safe"). If you want to stay in the game without risking huge losses because you don't think the potential rewards are high enough, then price your products at a roughly mean point to your competitors.
Final Thoughts
At RepricerExpress, we've not only got the tips you need to get ahead on repricing but the repricing software with which to do it. It takes no time to set up, it's easy to use, and it's one of the key elements to help take your Amazon business to the next level. But instead of just reading about it, give it a try now with our 15-day free trial.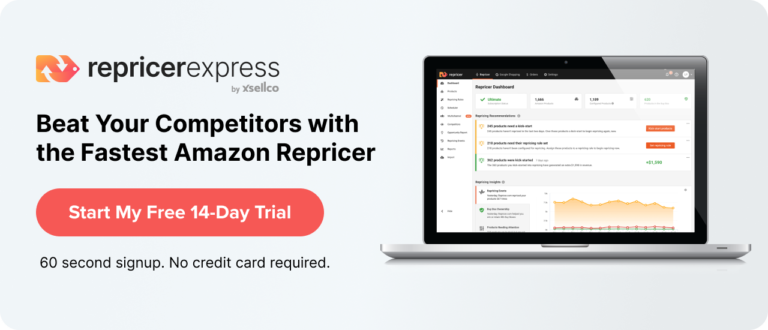 Related: Best Amazon Repricers: The Complete List (Updated for 2020)