We here at RepricerExpress do solemnly swear not to bamboozle you with too many details in this post. Selling on Amazon seems to include more and more options all the time, such as adding on Keepa and CamelCamelCamel to your regular bag of tricks. Curious how you can expand your repertoire? Okay, let's go!
What are Keepa and CamelCamelCamel?
Simple — they're Chrome extensions you can add when it comes to sourcing products and how to make the best decisions possible. They're fairly similar to each other when it comes to concept, but the actual nuts and bolts of them differ a bit. For instance, they both use colour-code graphs to convey information, but the types of information you get with each extension isn't necessarily the same. For that reason, some sellers like to use both extensions as a package, while others gravitate to one over the other.
Keepa Extension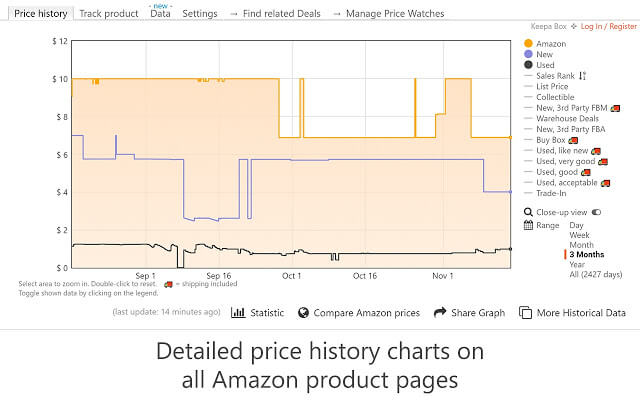 At first glance, the Keepa graphs might look confusing but really, once you get the hang of it, it becomes apparent just how detailed and sophisticated this extension (Chrome, Firefox) is so let's dive in and take a look.
There are four colours to concern yourself with: Amazon is orange, new marketplace items are blue, used marketplace items are black, and the sales rank of a product is green. Just keep looking at the colours and what they represent until they become second nature to you.
The time-frames you can select to view a product's history differs from CCC, and in a way we think is much more intuitive. Instead of looking at such a long view, Keepa shows you more immediate results by giving you the option to display date ranges of a day, week, month, three months or all the data the extension has on file.
And when it comes to a product's monetary history, Keepa tends to win out again for a more intuitive display by showing you low dollar amounts on the bottom and high dollar amounts on the top.
The same intuitiveness goes for a product's sales rank, too, with the lowest at the bottom and the highest at the top.
If you want to keep your focus super narrow, click to remove a set of data. And if you want to broaden your scope, just click back the data sets. Plus, a neat thing happens if you click back the Amazon data set because it comes back shaded to indicate it's in stock (and white if it's out of stock). You can also see the in-stock, out-of-stock history of an item so you never have to compete directly with Amazon, which isn't the smartest idea in the world.
And what happens if you click off all data sets? Well, Keepa just gives you a green line on your graph to indicate the sales rank history over the date range you've chosen. It's a sort of default option, as opposed to having to manually input it as you would with CCC.
Update: As of February 21st, certain data features of Keepa require a paid subscription. These include sales rank history, Buy Box, new/used/refurbished/collectable offer count, rating and review count. Learn more…
CamelCamelCamel Extension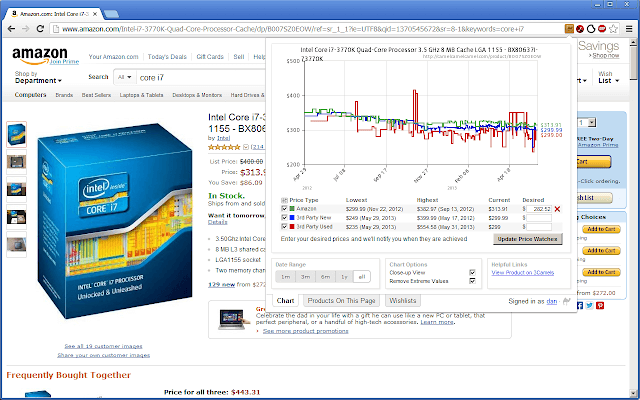 The price history graph is the first one you'll see on CamelCamelCamel and you can configure the settings to display price history for the last month, three months, six months, year or all of the above.
As a subset to that, you can adjust the slider bar to display price histories that come from Amazon or third-party sellers (further subdivided into new or used products).
If that graph doesn't grab your attention, then you can switch over to a sales rank graph to see how a product has fared in the last month, three months, six months, year or all of the above.
If you get at all confused trying to make sense of the graphs and how to tell if a product has been a hot seller over whatever time-frame you've chosen, then use this simple rule: the lower the sales rank, the higher the sales.
Video: How to Use Keepa and CamelCamelCamel
In this video, Stephen Smotherman from Full-Time FBA explains how he uses Keepa and CamelCamelCamel for his FBA business in this great video. Check out his course.
Keepa New Features (March 2020)
Keepa has just announced some new changes to how they track Amazon product prices and sales ranks. If you want to source smarter, and you need to know about these latest updates.
Here is a quick summary:
New pink Buy Box line (no more random Buy Box diamonds)
See how many people are in the current Buy Box rotation
New ways Keepa shows Amazon in/out of stock AND if Amazon is sharing the Buy Box
New ways Keepa shows sales ranks if the main category sales rank disappears from Amazon
And more!
Check out the video below where top Amazon FBA seller shows you all of the new Keepa features in action.
Try for Free for 15 Days
Once you've identified which items are good for your store and you have your listings for them ready, the fun starts when it comes time to price them so you can beat out your competitors. And with that, enter RepricerExpress to boost you to the top. The only 'work' you have to do is sign up and start your 15-day free trial.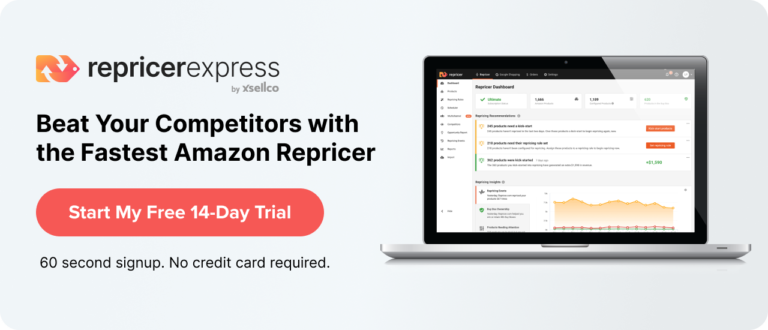 Related: