Guest post by Rob from Skubana
Just like with any business, selling products online will always involve stiff competition. When it comes to selling on Amazon, those who win the Buy Box are those who capture customers.
The "Buy Box" is the box on a product detail page where a customer starts the purchase process by adding an item or items to the shopping basket. Amazon combines all of the offers for a product on a single page and uses one default offer – that is the Buy Box.
To get a better understanding of how to optimise your Amazon listings and compete with other sellers, here are some factors to consider. Many sellers try to win the buy box by lowering their prices, but it is possible to come out on top without rock-bottom prices. In fact, only one of our five strategies below mentions price.
1. Make Sure You're Eligible
Becoming an eligible Seller requires meeting very high standards, and excelling in the qualifying criteria is the best way to work towards achieving this status. Initially, to be eligible for Buy Box, every merchant must have a Professional Seller account and needs to have been trading for at least 2-6 months. However, there are cases when the merchant can be instantly eligible when using the Fulfilment by Amazon (FBA) service.
In addition, the Merchant must have shown consistently high-performance levels in the following areas:
A history of successful selling – having successfully fulfilled a large number of orders with positive experience would show consistency and the trustworthiness of the seller.
Excellent customer service – these are some of the factors that affect customer service:

Responsiveness
Speed of dispatch
Number of 'perfect orders'
Condition of the products shipped
Number of cancelled orders
Having good customer metrics – good customer metrics communicate a seller's credibility and reliability
Below are the steps to check for Buy Box eligibility:
Go to the Inventory tab (in Seller Central) and select Manage Inventory
Select the Preferences tab
Within the Column Display section, find the Buy Box Eligible tab
Select Show When Available within the drop-down menu
See the Buy Box eligible column at a particular SKU and check if there is a "Yes" in the seller is eligible
2. Set Competitive Pricing
While the price is not the sole factor in winning the Buy Box – it is considered to be a crucial part of it. The seller must make careful considerations with competitive pricing, taking delivery or shipping charges into consideration. Pricing items competitively doesn't necessarily mean the product needs to be the cheapest available. It is always good to do due diligence and research the competition before and during product listing in order to keep tabs on others offers. When prices change or a new competitor sets a lower more attractive price, the seller might consider making necessary product offer optimisation in order to keep up with others.
There are a number of software solutions that can help in automatically set prices to keep it competitive. RepricerExpress is a commonly used and trusted pricing software tool that helps merchants adjust pricing and increase online sales across all channels and listings. The tool allows sellers to freely customise pricing strategies with both basic and advanced rules options, set minimum and maximum prices to protect margins, bulk import, and export filtered searches or templates to apply changes to pricing in a snap.
Related: Do I Need Repricing Software for Amazon?
3. Expand Your Stocks
Except for media products where there is a smaller "Used Buy box" is available, the Buy Box only features new products. To win it, a merchant must consistently introduce new range and sell new products. This indicates that a seller is innovative, and encourages trust in Amazon and online customers regarding the condition and quality of the product.
4. Gather Great Seller Feedback
Amazon puts the customer first – so customer feedback on Amazon is taken very seriously. If the majority of your customers have given positive feedback, Amazon is likely to prioritise those merchants for the Buy Box.
Keeping customers happy entails being quick to respond to issues (Amazon has set a standard of response time to be less than 24 hours) and taking extra measures to avoid problems. For example, set expectations in your listing and give them all the information they need to make a good decision.
You can keep track of your performance as a seller by accessing the Customer Metrics page in the Seller account. For more information about performance standards, you may check the Seller Performance Measurement.
5. Ensure the Availability of Stocks
Amazon expects the seller who wins the Buy Box to be able to handle the demand resulting in the listing. Moreover, the company wants to avoid having customers who add out-of-stock items to the basket.
To avoid this, the Merchant needs to make sure they have the inventory needed to keep items in stock, especially for popular, fast-selling products. Then you'll need to keep your inventory updated to avoid selling out, since having out-of-stock products tends to negatively impact your seller metrics. This also drops your chances of winning the Buy Box.
For seasonal products during times of high demand, Amazon opts for sellers with stocks in large quantities, as it leads to less customer dissatisfaction. In other words, a Seller that has consistently sold large volumes of an item will always have an advantage in winning the Buy Box than their competitors offering the same listing and products.
6. Improve Fulfillment
Perhaps one of the most important factors that contribute to winning the Buy Box is availing of Amazon's FBA service. With Amazon taking charge of the dispatch of items and customer service, customers are offered world-class quality service and support. However, availing of FBA service does not necessarily guarantee winning the Buy Box.
For Merchants not using FBA, ensure that your fulfilment services fantastic quality. This means offering a range of shipping methods with fast dispatch time to ensure customer satisfaction. Sellers who currently offer only one Standard delivery rate should also consider adding an expedited rate for customers who prefer to receive items purchased immediately. Available shipping options may be managed in the Shipping Settings page in Seller Central.
Amazon provides ecommerce sellers with a great opportunity to market and reach a wide audience. However, the convenience comes with responsibility, so be sure to provide top quality product range and great service.
With millions of other ecommerce players looking to sell their products through the marketplace, this has presented tough competition for many. Therefore, it is crucial not only to have great products but also to consider other elements that will ensure customer satisfaction.
Final Thoughts
Win the Buy Box and gain a competitive advantage by consistently providing good quality products, stellar customer service, and competitive pricing. Keep your product line innovative with new options, and encourage brand loyalty by paying attention to the customer experience.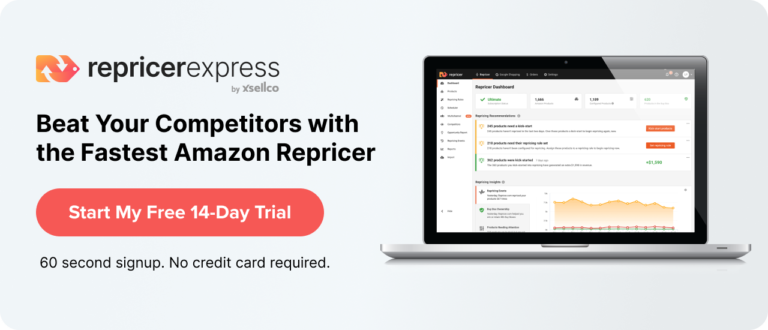 Skubana is an all-in-one ERP system and operations platform designed for high volume sellers to run and automate their business. By unifying point solutions in one place, sellers can now diagnose what used to take weeks in seconds.