Once you've mastered basic marketing strategies like optimizing keywords, engaging in social media and auto-repricing, it's time to move onto more advanced techniques. RepricerExpress has you covered with twelve of the top ones you need to know for 2019.
1. Injecting Emotion into Your Images
Your main image should be just the product on a white background, but when it comes to the secondary images, it's time to let loose a bit — and forget about the usual tips of shooting in natural light or shooting multiple angles. We're talking about things like:
Comparisons between your product's (superiority) and a competitor's (inferiority).
Hi-res (minimum of 1,000 x 1,000) so buyers can zoom and scroll over it.
Sizing charts and product labels.
Lifestyle/action images featuring different kinds of users (so every buyer can imagine themselves using it).
2. Doing Testing on Images to Select the Best Ones
Be scientific by swapping out just one image a week so you can isolate its metrics. Then, track sessions, sales, conversion rate and revenue each week you're changing images until you find the combination that works best.
3. Using Surveys
Sometimes testing will only take you so far and you'll need to extend yourself into surveys. Using a third-party tool like Survey Monkey, Survey Planet or Typeform, write up a list of yes-or-no, multiple-choice and short answer questions for buyers to answer. If you want to amp up your results, you can try offering a coupon or discount on a future purchase, but we judicious in its use. Take time to read each survey and see the commonalities, then apply it to your listings.
4. Triage Your Bullet Points
Your first three bullet points should include the most important features of your product, while the next two or three should answer potential questions buyers would have. To further emphasise things, use bold all caps for the beginnings, like:
100% 30-Day Money Back Guarantee If you're not fully satisfied, you can return (the product) for a full refund. There's nothing to lose.
5. Use HTML to Your Advantage
While you can't do crazy things like use classes or ids, you can use HTML that bolds, italicises, quotes, line breaks and page breaks on your product description. Use the basic forms to emphasise keywords or phrases, as well as break up walls of texts.
6. Or Just Go with an Enhanced Brand Content Page
If you want all the trappings of HTML, then going with an Enhanced Brand Content page might be your best bet. You can design the layout yourself or choose from a pre-made module, either of which brings a lot of life to your listings.
7. Go Deep with Competitor Analysis
This one will take some investment, but the payoff is pretty worth it. Instead of simply browsing competitor listings, order their products so you can see in real life what they're like. You'll want to keep a spreadsheet as you go so you can compare things like:
Product presentation and packaging.
If the seller included a product insert that had information about a warranty, how to contact them or a link to leave a review.
Any accessories it came with, or if any accessories are missing.
A user manual or other form of instructions, and how detailed it was.
8. Fighting Negative Reviews Like Your Business Depends on It
…because it does, in a way. When a buyer looks at two nearly-identical products, they'll choose the one with the 4.5-star rating over the 3-star rating, every single time. Trying to remedy negative reviews might not seem like an advanced marketing strategy, but it is. You're telling buyers just how worthwhile (or not) your products are, all without having to say a single word.
Pro Tip: Focus a lot of attention on buyers who paid full price, as their reviews are weighted especially heavily.
Related: How To Remove Negative Feedback on Amazon
9. Answer Quickly, Thoroughly and Positively
It goes without saying that you should answer customers' questions, but when you think of it as a marketing strategy, you'll go about it smarter and more efficiently. Remember that episode of Mad Men when Don Draper renamed Lucky Strike cigarettes as 'toasted'? He was anticipating buyer's concerns and questions and getting to them right away, but also cleverly not making a health claim or downplaying the risks of smoking. Keep a little Don Draper in your back pocket when answering buyers' questions.
10. Go Pro on Your Back-End Search Terms
The back-end of Amazon isn't visible to buyers and contains a mini treasure trove you can use to boost your listings. Do things like:
Use the first 250 characters most importantly, as they're the indexed characters.
Put a space in between words.
Include both the singular and plural forms of words because they are different.
Don't repeat words you've already used in other sentences, phrases or longtail keywords.
11. Advertise Away From Amazon
Sticking to just advertising on Amazon is putting all your eggs in one basket. Instead, do things like sponsored posts on Instagram, curate Pinterest boards, have a LinkedIn page, and advertise on Facebook and Twitter.
Using sites like Quora and Reddit are better suited for introducing your product and warming it up, rather than outright advertising — you'll turn buyers off more than you'll engage if you advertise there, based on the nature of each site.
Lastly, use influencers to help spread the gospel of you. Their price tag might seem a little costly, but their reach and message can feel wider and more organic than traditional marketing and advertising.
12. Master High Converting Sales Funnels
You can market and advertise until the cows come home, but if your page isn't set up like a high converting sales funnel, then you've missed the chance to score on your front door.
Here's how to bring 'er home:
Set up a professional website with a slick theme.
Put a simple, yet effective, marketing funnel in place, including a bridge (i.e. blog post, article, etc.), landing page with email opt-in, thank you page that offers an immediate sale (so you can see if they're actually interested in buying or not), and an initial upsell to get them spending.
To finish off your sales funnel, get a segmented and targeted email campaign going, making sure to drive traffic. When you're all done, review the results and do split testing to see what to implement next time.
Final Thoughts
We thought about including auto-repricing in as an advanced marketing strategy but decided against it because it's something every seller should be using, no matter their experience level. And there's no better tool to use than RepricerExpress. It's simple enough that you can get it going right away but customisable enough that you can make it suit detailed needs. All you have to do is sign up now to start with a free 15-day trial.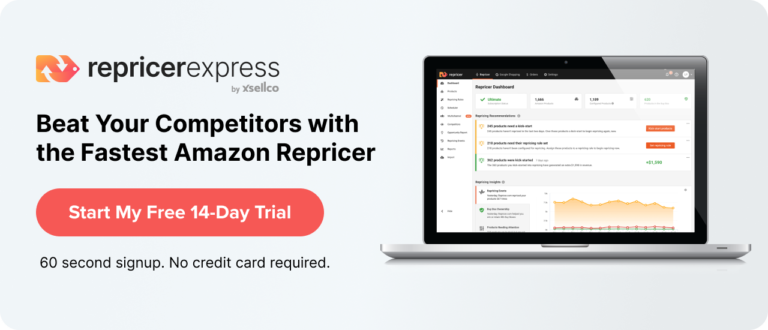 Related: 5 Amazing Amazon Seller Marketing Strategies for 2019