Do you like making money? And do you like beating your competitors? If so, then we've got a post for you. RepricerExpress wants to tell you about these five Amazon seller scanner apps that can help you learn more about your competition so you can maximise your returns in the quickest and most efficient way possible.
First Off, What is an Amazon Seller Scanner App?
If this is your first time hearing this term, that's okay. An Amazon seller scanner app is a tool that gives you information on a product when you scan its barcode. It lets you instantly see how its performing based on its metrics, giving you data on its price, approximate profit, and eligibility to sell that item — all in real-time. So without further ado, here are the top apps you should be paying close attention to. Having a retail arbitrage app on their smartphone helps third-party Amazon sellers do retail arbitrage on Amazon.
1. Amazon Seller App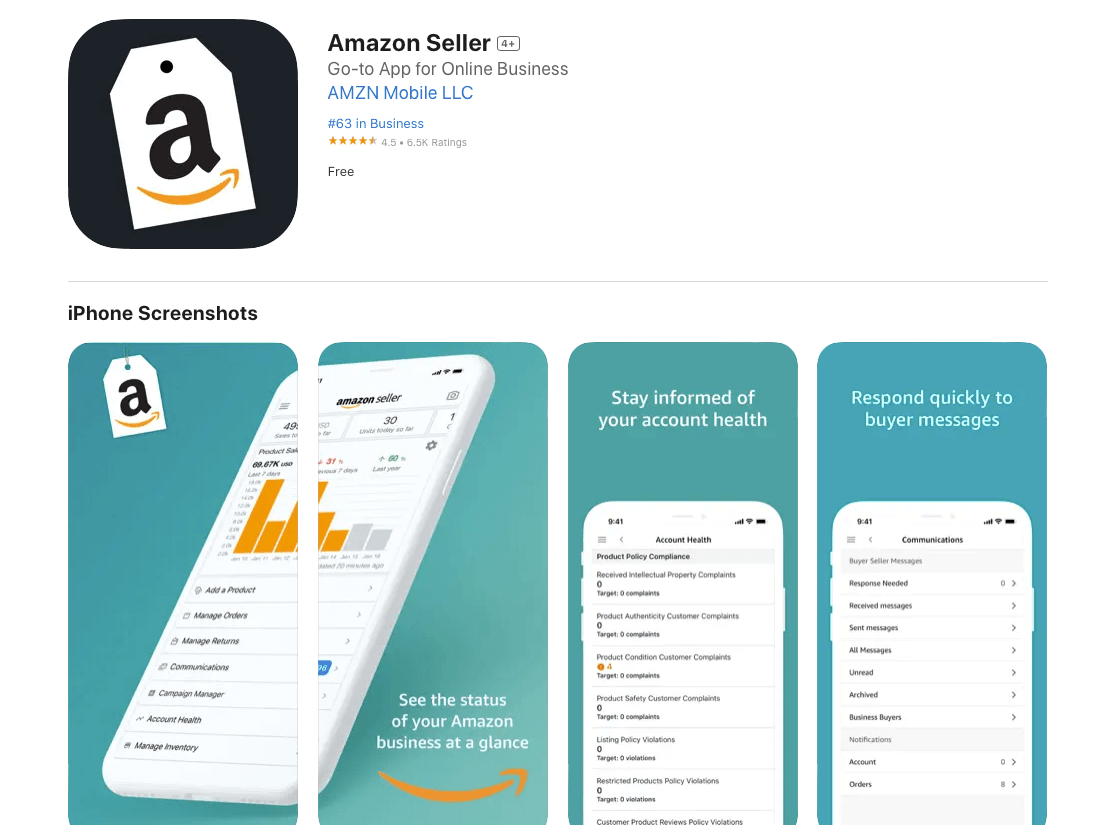 One of the best things about this seller app is it's free. And if you're already a registered seller on Amazon, you can start using it right away. If not, you'll have to sign up for a seller account first.
Once you've downloaded it, you can start scanning products right away (or do a manual search) and uncover:
However, it does come with a few downsides.
Available on:
2. Scoutify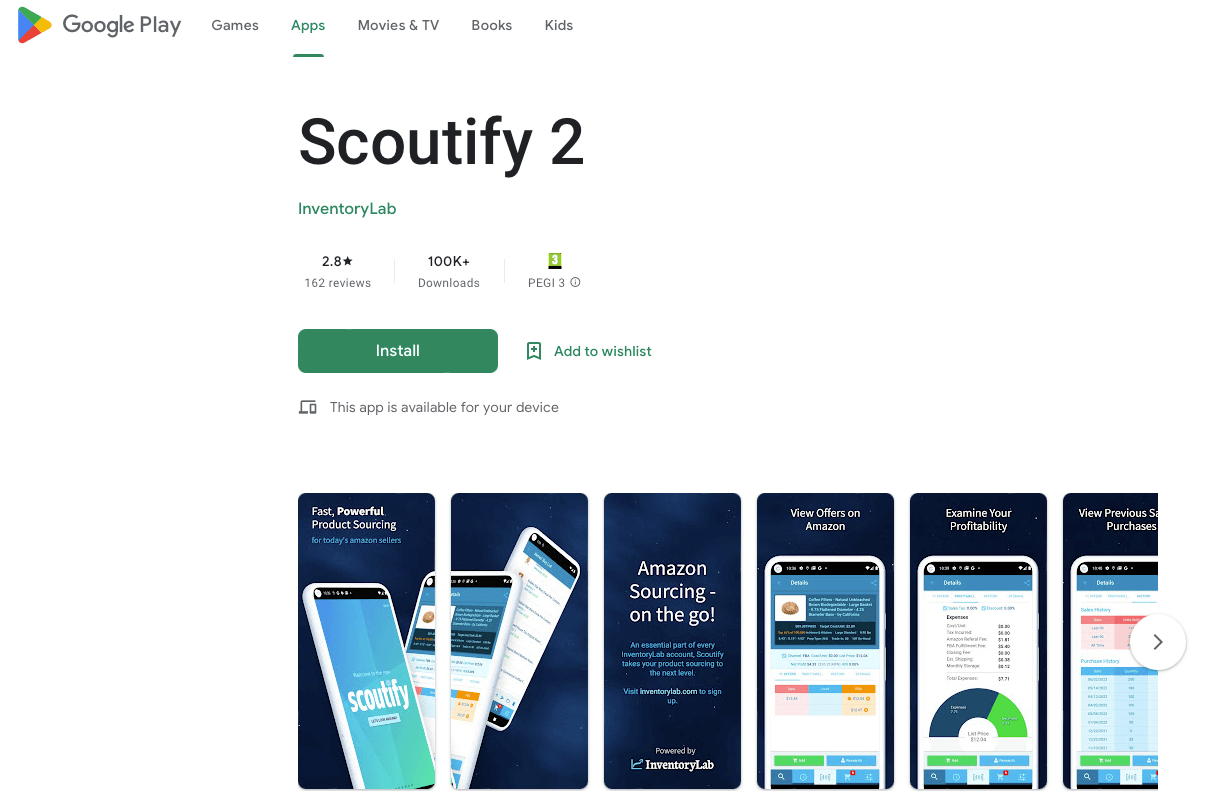 Let's get the biggest downside out of the way first so we can start raving about all of its great qualities: you have to sign up for the whole package. But it's one of those cases where you absolutely do get what you pay for, and boy, do you get great features. (Because of its cost, we recommend that sellers with a high monthly volume go for it, as you need an Amazon Pro Merchant account).
This is probably the best scanner app out there in terms of quality and features, but if you're not completely sure if it's right for you, they have a free month-long trial.
Available on:
3. Profit Bandit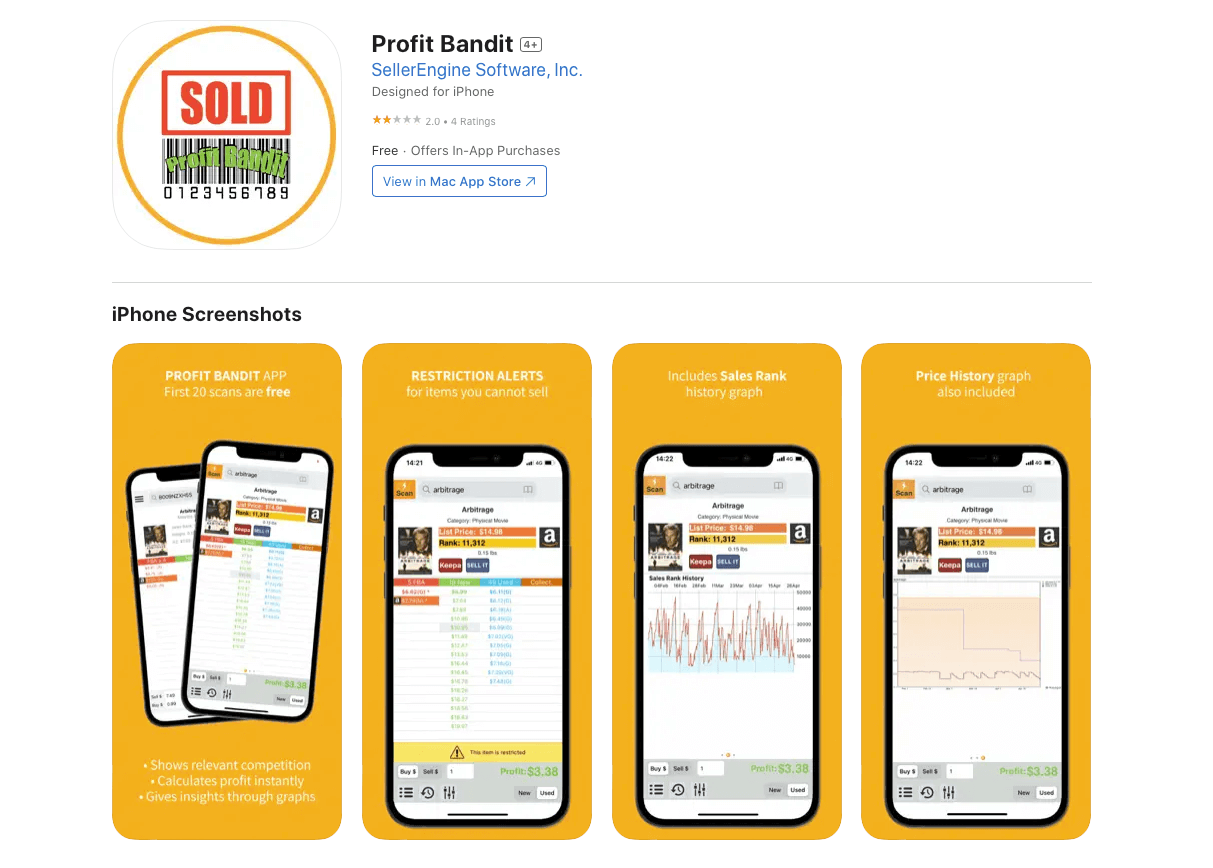 This scanner app also requires a paid subscription, but it's affordable and doesn't compromise on being able to research items in real-time. That upside is huge: you can make the best decisions possible because you have the most current information at your fingertips. Plus, its lower cost makes it a great entry point for lower-volume sellers.
Available on:
4. Scoutly (formally FBAScan)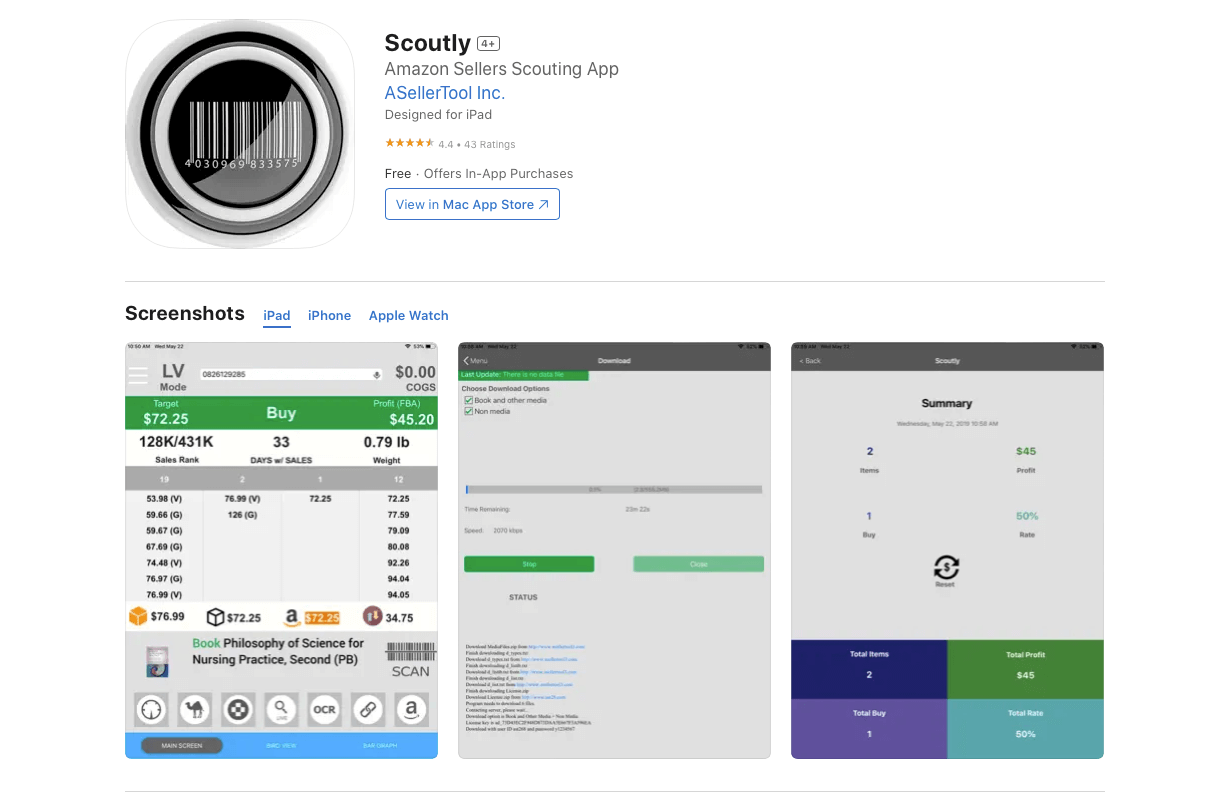 If you're ever in a reception/wifi black hole, this app has you covered by switching between live search and local database modes. It has all the information that other apps do (FBA prices, sales ranking, type, image, weight, title, etc.), but the data/wifi-independent feature makes it standalone.
Available on:
5. ScanPower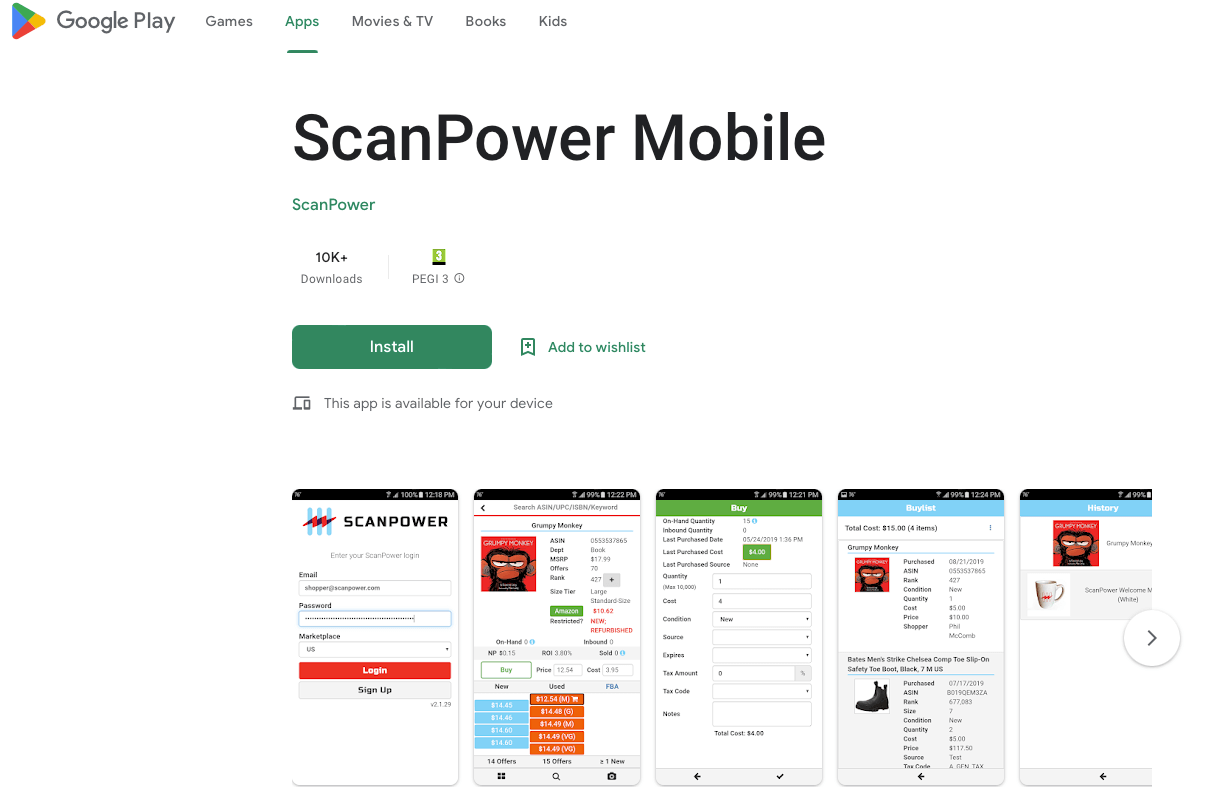 This one will set you back the most financially, but it will also put you ahead the most with the best and most accurate live data from Amazon. If you operate best on the go, this app is worth taking a second look at. And if you need information whilst out and about but want to send it back to your desktop to mull over later, this app lets you do that, too. Another neat feature we like is the ability to create 2D barcodes so when you ship your items, it's already there and you don't have to worry about it.
Available on:
6. Neatopricer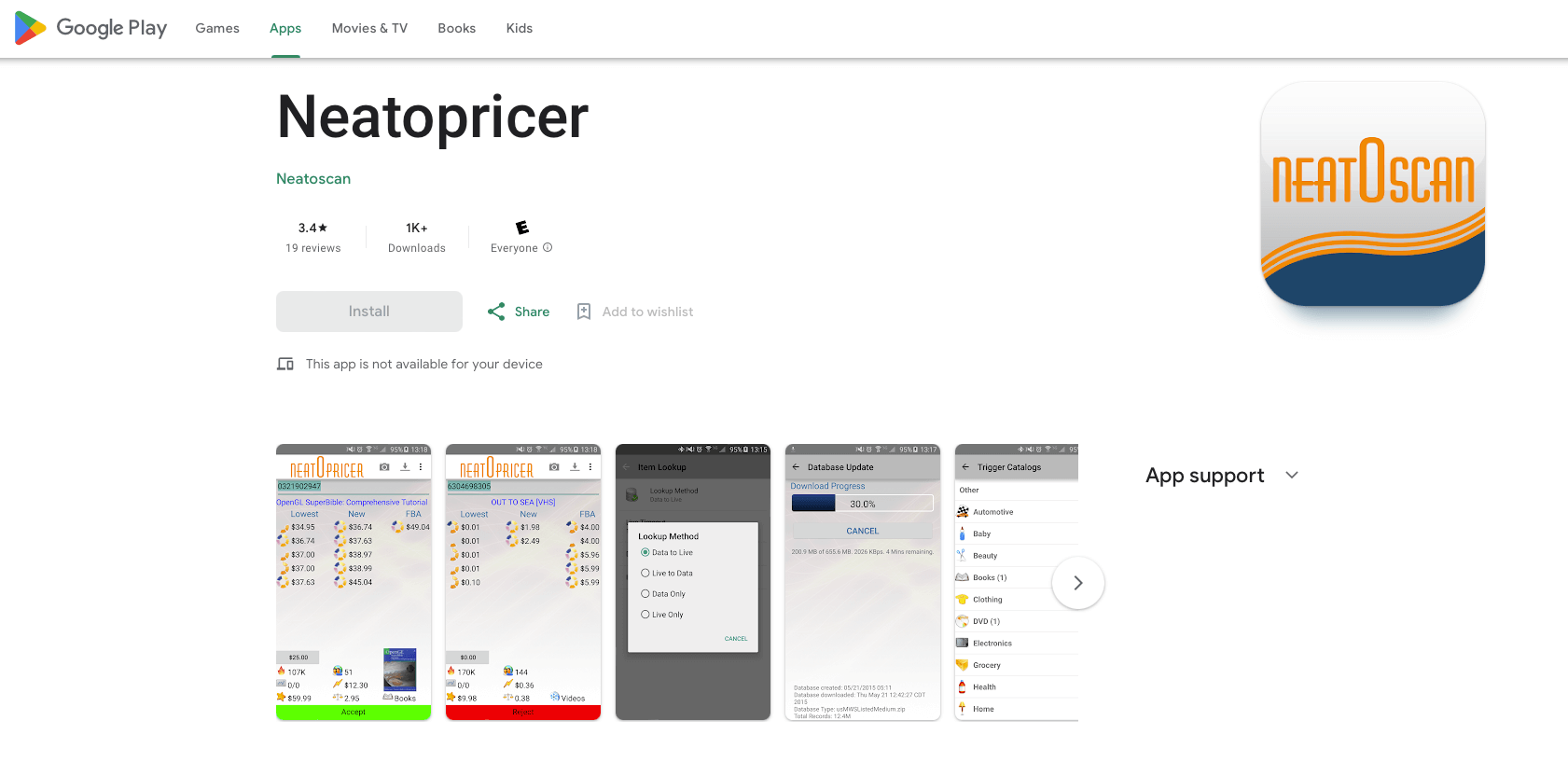 Neatopricer offers a rapid Amazon pricing comparison solution tailored for professional online merchants. Utilizing a consistently updated offline database of more than 18 million Amazon.com products, the tool enables you to continue scanning even in low-connectivity zones.
Available on:
Final Thoughts
Once you've got your products' information at your fingertips, you'll need to act on it in the smartest way you can. And for that, there's no better tool than Repricer to help you customise pricing rules that fit your needs. But hey, don't just take our word for it. Start using it free for the first 14 days when you sign up now.
See what our customers have to say!