Amazon's Buy Box is the end-game for most sellers on the platform because it makes it easiest for buyers to purchase your product over the competition. 82% of sales on Amazon go through the Buy Box, with an even higher percentage for mobile shoppers.
However, winning the Buy Box takes strategy. Buy Box sellers must outperform others in terms of price, customer experience, and fulfilment. Amazon's most recent algorithm also purposely rotates qualifying sellers through the Buy Box, so that multiple sellers are featured.
Amazon uses ranking factors like fulfilment method, history of sales, on-time shipping rates, overall account health, product price, and even reviews to determine which seller gets the Buy Box. Fortunately, you can leverage these factors to get your products that coveted spot.
Amazon uses an algorithm to award the Buy Box to sellers that are most likely to provide a quality customer experience, which means that you can leverage specific aspects of your operations to increase your Buy Box ratio, provided you're Buy Box eligible.
Let's take a look at five factors that help win the Buy Box.
1. Choosing the Right Fulfillment Solutions
Most of the top options are Prime, but in this case, the top option isn't.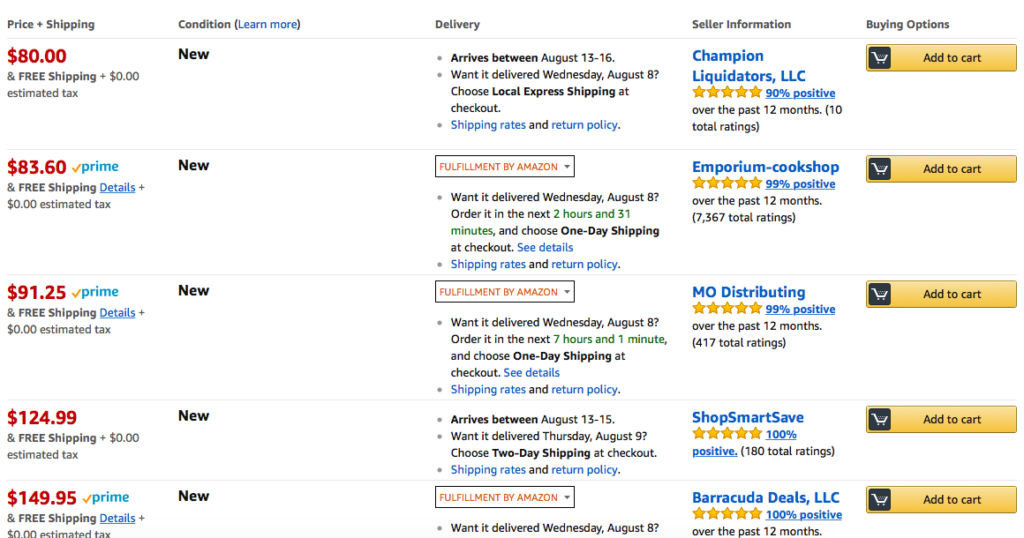 Your fulfilment solution is one of the most important factors of winning the Buy Box, simply because Amazon factors it very heavily into their algorithm. As a seller, you can choose to fulfil through FBA, Fulfillment by Merchant (FBM), or Seller-Fulfilled Prime (SFP).
Amazon scores each of these methods based on courier and shipping method, on-time delivery, and inventory depth. FBA receives a perfect score because Amazon handles everything and naturally hits the marks they want to achieve.
Enrolling in the Seller-Fulfilled Prime program can also help you win the Buy Box because you'll have to meet very strong performance metrics just to get in. Getting the Prime badge is great for conversions, helps you reach loyal Amazon customers, and keeps your listings competitive.
There's some debate over whether Amazon favours sellers using SFP or FBA, particularly as Amazon warehouses are running low on space and therefore driving up prices for storage. On July 1, Amazon started restricting storage space for sellers who kept inventory in their warehouses too long.
Related: Amazon Seller Fees: The Cost of Selling on Amazon
2. Maintaining High Fulfillment Quality
Amazon tracks multiple metrics relating to fulfilment quality, and each is important in helping you win the Buy Box. Your primary considerations should be:
Fulfilment Speed
Your chosen shipping speed, which Amazon offers in brackets of 0-2 working days, 3-7 days, 8-13 days, and 14+ days, will affect your ability to get the Buy Box.
Amazon prioritizes sellers who can move products more quickly, which can be challenging for smaller operations. If you're relying on your own infrastructure and want to win the Buy Box, choosing FBA or a fulfilment solution capable of fast shipping will help.
Late Shipping Rate
If you take longer than the set time to deliver a product, it will add to your late shipping rate. Sellers who don't choose a bracket are given a default shipping time of 1-2 days for delivery, so be sure to set this according to your shipping capability.
Keeping your late shipping rate under 4% by either staying on top of shipping and moving goods quickly or updating your shipping time to a longer period will help you to win the Buy Box more often.
At the same time, Amazon tracks "Delivered on Time," which they recommend you keep at 97% or higher for optimum Buy Box success.
Valid Tracking
Amazon knows the value of keeping customers informed, meaning that order tracking is increasingly important. Offering valid tracking with 95% or more of your shipped packages will improve your success.
Here, working with an outsourced fulfilment solution can be advantageous as well because you'll be able to more easily offer lower-cost shipping with tracking.
3. Total Product Price
Price is one of the most important factors in winning the Buy Box, simply because Amazon wants to keep prices as low as possible for everyone. You'll have to consider your product price as well as landed product cost (the total combination of shipping, local tax, and the product).
Here, many eCommerce sellers choose to use repricing tools like RepricerExpress to adjust pricing based on changes across the web and price changes by competitors. This can help you to win the Buy Box.
However, you don't necessarily need to have the cheapest pricing to win the Buy Box, just competitive pricing and high account metrics.
4. Having High Order Quality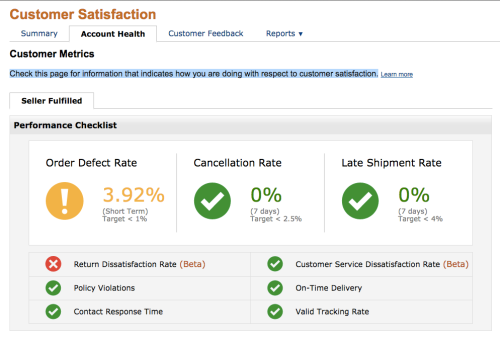 Amazon consistently pays attention to how customers feel about their products, and they will take this metric into account when choosing a seller for the Buy Box. Your Order Defect Rate, Feedback Quality and Count, and Cancellation and Refund rate are the most important metrics used here.
Order Defect Rate
You should keep this number as low as possible. If you want to qualify for the Buy Box, it needs to be below 1%. ODR is based on three metrics like Negative Feedback Rating, A-Z Guarantee Claim Rate, and Service Chargeback rate.
If it goes over 1%, you will be penalized and you may risk losing your account. However, the lower the rate, the higher your ranking in Amazon's algorithm.
Feedback
Amazon calculates both feedback count and quality into their Buy Box algorithm. The more reviews you have and the lower your negative feedback score, the better off you'll be. You can work to boost both by connecting with customers after sales to request feedback, but be careful to avoid incentivised reviews.
Pre-Fulfillment Cancellation and Refund Rate
Having a cancellation and refund rate higher than 2.5% will affect your chances of winning the Buy Box. The Cancellation and Refund rate tracks how many times you as a seller cancel an order and refund the buyer before shipping the product.
You can typically keep it low by staying on top of inventory management and preventing stock-outs, using cross-channel synchronization to prevent backorders across channels, and managing your pipeline based on seasonal demand as well as shifts based on promotions and your use of PPC.
5. Providing Great Customer Service
Customer service, especially your Customer Response Rate, is extremely important for the Buy Box. Amazon tracks your customer response metrics over the previous 90 days.
You should aim to respond to at least 90% of all messages within 24 hours and preferably within 12. The faster and more quickly you respond, the better your ranking will be. Amazon also offers the option to mark customer messages as "No response needed" which will save you from having to respond to something like a "Thank you for your help" email.
The Amazon Buy Box algorithm essentially weighs seller metrics against product cost and awards the Buy Box to the top sellers. The current algorithm cycles through different sellers, but if one seller obviously has a much stronger profile and better pricing, that seller will receive the Buy Box much more often than competitors.
Most importantly for you, winning the Buy Box is often mostly about offering a good customer experience, shipping quickly, offering customer support, and consistently delivering products to consumers in as short a time as possible. If your existing ecommerce sales strategy already includes those things, you can make winning the Buy Box a natural extension of your business practices. Overall, providing a good customer experience is good business.
Final Thoughts
Keeping your prices competitive is essential if you want to land the elusive Amazon Buy Box. Save time whilst boosting sales and profits by outsourcing your pricing to the experts. Sign up today for your free 14-day trial of RepricerExpress, no credit card needed.