What were you doing when you were 15 years old? I was working in a local supermarket stacking shelves earning £2.77 per hour. At the same age, Alex Philip is a young entrepreneur who has been featured in Forbes and is set to do £1.5 million this year through his Shopify dropshipping business.
Alex uses dropshipping to sell products from Alibaba through his Shopify store. Let's look at his numbers.
In 2018, Alex turned over $30,000 a month returning a profit of $5,000. He had a total turnover of $250,000 for the year — yielding a healthy profit of $60,000!
Not bad at all especially for a 15-year old.
Focus on Shopify Dropshipping
Alex started his ecommerce journey when he was just 11 years old and credits a lot of his success to his father, who is also a businessman.
Alex says, "As far back as I can remember, whenever I found loose change anywhere my dad would say it was a sign that I would make loads of money,"
Alex started selling on Amazon a few years ago. It was at the time when Pokémon GO was a big craze so Alex started selling Pokémon toys. He purchased them from eBay and sold them on Amazon at a higher price.
But his ecommerce journey has not been without hiccups. After a few complaints about defective items, Amazon shut down his selling account.
It was around this time that Alex decided to focus on dropshipping as his business model and set up his online store The Cool Life.
"You can find any and every item on AliExpress at wholesale prices, and dropshippers can take any of these items and put them on their store, mark them up at a good price and sell them."
Read more about Amazon vs Shopify.
Using Instagram for Product Sourcing
Alex knows how important product selection is and spends time before school on Instagram and Facebook doing Amazon product research trying to identify the latest trending products to source.
Although a Facebook ad campaign might cost Alex $400-$500, a winning product will generate that many times over.
With help he received from Julian Hall, Alex has learned how to increase conversions, optimise his online store and run successful Facebook ad campaigns.
"Justin's experience and knowledge of e-commerce has helped me to improve my store loyalty and build up a brand to encourage customers not to make this a one time purchase."
Balancing school and an online business isn't easy for young Alex. After school, homework is his priority, then he spends a few hours on the business, reading and learning new skills.
To help ease the workload, Alex recently employed his first virtual assistant (VA).
Alex says, "My goal is to be in business, not just to make money, but to change certain systems and certain established ways of life which, in my view, are not beneficial to humankind."
Interview with Kev Blackburn
RepricerExpress customer, Kev Blackburn, spoke to Alex this week about his e-commerce business. Check out the interview below.
Advice for Other Young Entrepreneurs
So, what Alex's advice to others?
Alex says don't worry about things not going to plan. Be fearless when you take action. And you can learn a lot from failing.
His final bit of advice is to focus on improving your skills, learning how to do new things effectively rather than making money.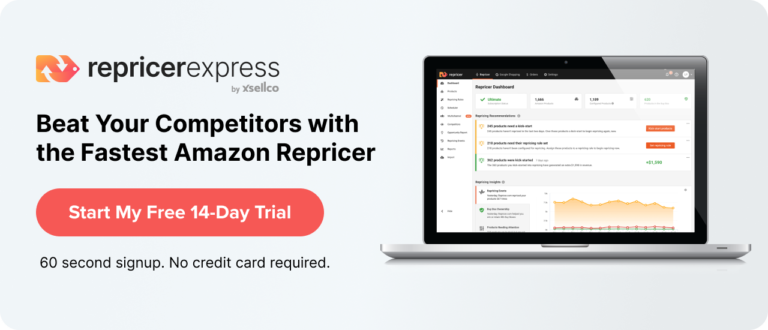 Related: 7 Best Ways to Find Products for Amazon Dropshipping