Guest post by Stephen from Full-Time FBA
Since this is the month where "love is in the air," let me share something personal with you. I honestly care about you. Sure, I might not know you that well, but the whole reason I create blog posts, ebooks, and videos is that I really enjoy helping people. I want to see you win with your FBA business! I love reading success stories from readers like you, and if you have a story to share, be sure to post it in the Full-Time FBA Facebook group. Ok, back to our regularly scheduled profit-building tips for the month of February.
Valentine's Day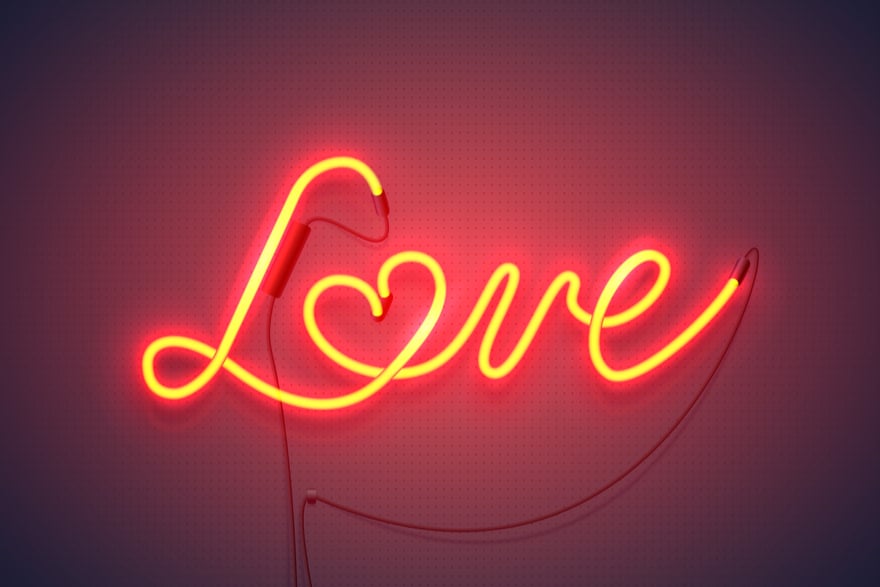 If you're just now getting started on sourcing for Valentine's Day for this year, then I'm sorry to say that most likely you are too late to the party. There might be a little time left for you to get some items sold on Amazon, but the ones who will make the most this year selling Valentine's Day items have sent their items into Amazon in early January, and maybe even as early as December. Don't worry, I'll remind you about prepping for Valentine's Day again in the November chapter.
After Valentine's Day Sales
Everyone knows that the day after Valentine's Day is the day when everything related to the holiday goes on sale for 50-90% off retail prices. This is an opportunity for you, but only if you know what to look for. Here are some ideas:
Valentine's Day cards for school-age children. These items are good to hold at home and sell for next year, as well as to include in themed bundles for next year. Just be sure that the cards don't have the current year printed on the actual cards.
Chocolate candy in non-Valentine's Day tins. Not every chocolate candy tin will have the words "Valentine's Day" on the lid. If you find some that are just red or just have hearts on them, then they will most likely sell at other times of the year as well. Think Mother's Day, anniversary bundles, etc.
Any other red or pink food item that is usually only sold during Valentine's Day. I've seen items such as red velvet pancake mix and pink colored fortune cookies, which will be hard to find in stores after February, making them a great item to resell online.
Look at everything on clearance and see if you can "think outside of the Valentine's Day box." You might find some great things for reselling in categories such as Arts & Crafts, Home & Kitchen, or Books.
One word of caution: Chocolates and other meltables will need to be sold or removed from FBA warehouses before May 1, or Amazon will destroy them (this rule is to avoid melted chocolates during summer months). If you're wanting to do Mother's Day bundles that include chocolate, be sure you sell those Merchant Fulfilled.
But be warned, if you decide to mail chocolates after May 1, you are still risking a negative feedback if the chocolates arrive melted. It's not worth the risk, in my opinion, but some sellers do find success with this strategy. One other option is to ship the chocolates (or other meltables) with ice packs, but this would most likely eat into your profit margins substantially.
Craigslist Sourcing Strategies for February
Many resellers love sourcing garage sales to find profitable inventory to send to FBA and sell on Amazon, but sometimes the weather during the winter months just doesn't provide as many opportunities for sourcing garage sales. An excellent alternative for sourcing during the month of February is to source on Craigslist.
I know, I know, Craigslist has a bad rap at times because buyers and sellers both can flake out on you at the last minute, and you have to be careful of scammers. But if you take the right safety precautions and do the right research, you can find some super sweet deals on Craigslist that you can turn into big profits on Amazon.
Here are my top four items that I love to source on Craigslist to sell on Amazon:
1. Textbooks
If you live in a college town, you'll find textbooks sold by the lot on Craigslist at the end of each semester. Even if you don't live in a college town, some students will bring their books home during the summer to sell on Craigslist. Students know that by selling their books back to the campus bookstore, they might only earn $4 or $5 – and they can sell them on Craigslist for $10. Many of those books could be sold on Amazon for anywhere from $40 to over $100, so keep an eye out for them.
2. LEGO
While LEGO is usually a restricted brand for newer sellers, it's still important for me to let those who are not restricted know that LEGO tends to have amazing best sellers rank on Amazon. Whether you list them as new or collectible, they seem to sell almost as soon as they hit the FBA warehouse shelves. Sometimes you can find LEGO lots on Craigslist, but you can also find individual sets.
Maybe a kid had a set that he put together a few years ago, it's been sitting on his desk collecting dust, and now that he's grown and leaving the house, the parents are selling that set on Craigslist, complete with box and instructions. Or maybe a kid got a LEGO set for a gift, only opened bag #1, and decided he didn't want to put the set together after all.
And there are even the rare occasions where you can find new, unopened LEGOs for sale on Craigslist by someone who's just looking to get rid of stuff. If you want to sell a LEGO set on Amazon as collectible, you need to make sure that each and every piece is included, along with any minifigures and stickers.
You don't need the original box, but you do need to include instructions, whether it's the original instructions or a copy you've downloaded and printed from online. You must include detailed descriptions in your condition notes telling whether you have the original box or instructions.
Reminder: Some sellers are not approved to sell certain LEGO sets, so be sure you check on Amazon, the Amazon Seller App, or the Scoutify app to make sure you can sell certain LEGO sets. We'll talk about how to handle restricted items and possibly how to get approved to sell restricted items later on in this chapter.
Bonus tip: LEGO minifigures can sometimes be sold individually in collectible condition for big profits. For example, we are always on the lookout for minifigures from the Harry Potter sets because we've made great money from them in the past.
3. Board games
You might know by now that I love board games so much that I wrote a full book and video course about selling them. One of the places I keep an eye out for board games, new or collectible, is Craigslist.
You can buy an entire lot of board games with the intention of only selling a portion of them on Amazon, and then resell the rest of them at your next garage sale. I have even sold individual board game pieces for profits on eBay to people looking to replace some of their missing board game pieces. Make sure you message the seller ahead of time on Craigslist to find out if all the pieces are included.
4. Ride-on toys
Many people sell their children's ride-on toys on Craigslist once they're finished playing with them. These toys will be considered oversized on Amazon, but you can definitely make big money selling big items on Amazon.
Do a search on your local Craigslist for "ride-on toys," "ride-on animals," or "ride-on cars" to find profitable toys you can sell in collectible condition. We have a favorite ride-on toy that we love to find on Craigslist for $40 or $50 and can sell it on Amazon in collectible condition for $400 to $500, depending on the time of year. It may take a little extra effort to put together a box for shipping it in to FBA, but that effort is worth it for the big ROI.
Buying the above items on Craigslist is a win-win situation for both you and the seller. They're getting cash for an item they no longer want, and you're getting an item to sell on Amazon that will have less competition and less chance of "tanking" prices. The best way to keep an eye out for these items to resell is by setting up automatic searches and notifications through websites like Noticraig and/or IFTTT. That way you don't have to constantly repeat your search, but you can just sit back and wait for the notification to come to you.
A word of caution about Craigslist: Always arrange to pick up your items in a public place, like a parking lot or even the police station. If possible, don't go to pick up the item alone. I've done dozens and dozens of Craigslist pickups and have never had an issue with my safety. The only issues I've had were a few no-shows, but that's really it. Overall, Craigslist is a good alternative to garage sale sourcing.
Weather-Related Sourcing Ideas
Weather-related items can be a potential gold mine of profits if you know what to look for. For example, during the month of February, space heaters are on clearance in Texas, but they are still very much needed in northern states. I could buy a space heater at 75% off, sell it around the retail price on Amazon, and make a nice profit from the guy in Boston who needs it right now.
When you are sourcing inventory, you need to turn off the part of your brain that thinks, "Why would anyone want to buy this online right now?" Making assumptions will cost you money, literally! You need to scan everything and see what the demand actually is on Amazon, not just the demand you assume is happening.
Feed the Beast
No matter what you source, it's always a good idea to keep feeding the Amazon beast. The more often you send items in, the more sales you will get, and the more often you'll get the Buy Box! I'll talk about it more below, but there will be times when people are iced in because of really brutal weather, and while you're working on your FBA business, your customers will be getting cabin fever and heading to Amazon to buy your stuff!
Long-Term Storage Fees
As mentioned in the January chapter, on the 15th of every month, Amazon will be charging you long-term storage fees for any of your items that have been in an FBA warehouse for over 12 months as of that 15th day of the month.  Full details of long-term storage fees (and how to potentially avoid them) are in the January chapter, so if you have not read it already, I highly recommend you go back and read those sections.
This will be the last chapter where I remind you about the rolling long-term storage fees, but I wanted to mention them one more time, just in case you're not yet in the habit of checking on your potential long-term storage fees each month. It should become a monthly habit to check whether you're going to be charged long-term storage fees or not each month, and then to follow the steps found in the January chapter to see if you can avoid them.
Times When it's a Good Idea to Pay Long-Term Storage Fees
When you have tried all of the strategies (found in the January chapter) to avoid long-term storage fees and still have not sold your item, then it's time to decide if paying the long-term storage fees are worth the cost for another 30 days of long-term storage. Sometimes, it's totally worth the cost.
Say you have some warm-weather related items in stock and see that on February 15, you'll be charged a long-term storage fee of $0.94 per item in order to keep storing that item in an FBA warehouse another month. It's cold outside now, but warmer weather is coming soon. You've looked at the Keepa graphs for your item and see that once the winter months are over, the price of this item usually recovers to where you'll still make a nice profit. Come March and April, your spring-related item will be selling like hotcakes again, and at a $15 profit! You're OK with paying the $0.94 long-term storage fee for possibly a couple more months, because you feel confident the fee will be worth paying compared to the profits you'll make in a few months.
This is just one example of when paying long-term storage fees is actually a good idea and will end up making you more profits. There are plenty of other situations (when specific holidays are coming, when certain sporting seasons/events are coming, when the holiday toy selling season is coming, and more) when it might be a good idea to pay the long-term storage fees. Always check the Keepa graphs on items you're potentially paying long-term storage fees on to see if the fee is worth paying.
For a free training video on how to use and understand a Keepa graph to predict future sales and profits, then check out our blog post on How to Read and Understand a Keepa Graph.
Ok, so now you know there are times when paying the long-term storage fee is worth it. But what about the times when you still want to avoid paying that fee, and time is running out to try and sell your item. What do you do then? Let's talk about those options in the next section.
Removal Order Decisions
When all other strategies to avoid long-term storage fees have failed and you don't see any wisdom in paying the fee for your effected item, then it's time to remove your inventory from Amazon by creating a removal order. Since long-term storage fees are calculated on the 15th of each month, then it's best to create the removal order a few days ahead of the fee calculation to make 100% sure your item will not be charged the fee.
When you create a removal order, you have three options. You can have the inventory item returned to you, you can have the item destroyed, and in some cases, you can request to liquidate the items to Amazon. If you have the item returned to you, then the cost will be $0.50 for a standard-sized item and $0.60 for an oversized item. No, those are not typos. Amazon is very generous in their fees to have items returned to you. If you decide to have the item destroyed, then the cost is $0.15 for standard-sized items and $0.30 for oversized. If you decide to request to liquidate your inventory, then Amazon will spend some time looking for a buyer. If approved, you'll probably only get 10 cents on the dollar for your inventory, but at least those items will be gone. If the liquidation request is not approved (meaning Amazon was not able to find a buyer for the inventory you want to remove) then you'll need to go ahead and set up an alternate removal order.
I always try to see the positive side of things when creating removal orders for items that are not selling. My favorite perk of creating removal orders is that Amazon usually ships my items back in a nice sized, reusable box, and it's usually filled with those inflatable air-pocket box fillers. I keep these air-pockets for when I need to use them as box filler in my next box headed to FBA.
Your IPI and How to Unlock Unlimited FBA Storage
In 2018, Amazon started to incentivize selling inventory quicker by potentially limiting storage capacity at FBA warehouses for the sellers who don't sell the bulk of their inventory somewhat quickly. It's called the Inventory Performance Index (IPI) score, and keeping a good IPI score can unlock unlimited inventory at FBA warehouses nationwide.
The IPI (Inventory Performance Index) score relates directly to the amount of storage space Amazon allots FBA sellers in their warehouses. In July of 2018, Amazon began implementing storage limits for professional sellers with an IPI lower than 350 (individual sellers all have the same storage limits which cannot be increased or decreased). The IPI strategy that Amazon implemented in 2018 must have worked for Amazon's purposes –  because in late 2019, Amazon announced that starting January 1, 2020, the minimum IPI score will be updated from a score of 350 to a score of 400.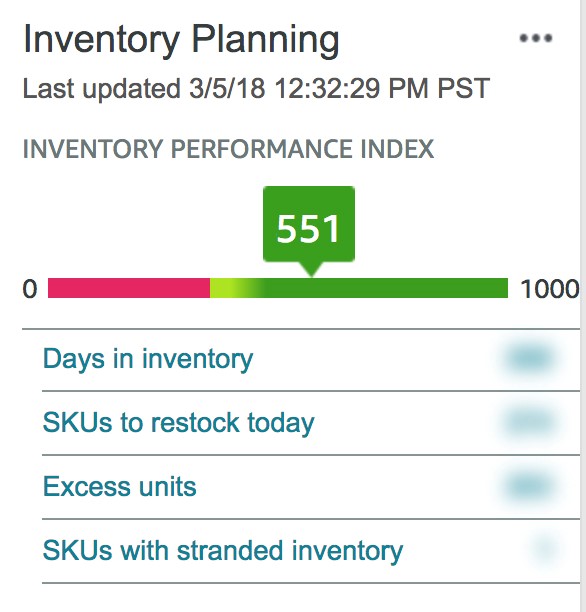 As long as your IPI remains above 400, you will have unlimited storage at FBA warehouses. However, if the IPI goes below 400, you may receive an email from Amazon six weeks before the end of the quarter with information about potential storage limits. If the score does not increase to above 400 by the end of the quarter, the limits will apply for the next quarter.
Amazon is serious about wanting to use their FBA fulfillment centers as fulfillment centers, not as long-term storage solutions for FBA sellers. If a seller makes a habit of sending in inventory that doesn't sell quickly, Amazon will find a way to encourage the seller to remove that inventory from their warehouses, whether by imposing storage limits or storage fees.
For professional sellers who have been selling long enough to have an IPI, you should see a score on your Seller Central home page at the bottom right. You might need to expand the widget for Inventory Planning if you don't automatically see your IPI. You can also find it in Seller Central by hovering over "Inventory" and clicking on the "Manage Inventory" link. After that, you can click on the "Inventory Dashboard" link, and then scroll down to see your current IPI score. Here is a quick link to your Inventory Dashboard.
The IPI score is based on a scale of 0 to 1000. Amazon has stated in seller emails that most sellers have an IPI between 400 and 800. They say that an IPI score above 500 is outstanding, a score between 400-500 is good, and anything below 400 is not acceptable (hence the storage limits).
Even though the algorithm for calculating the IPI isn't 100% clear, Amazon gives some indication of four metrics they're looking at within the IPI:
Excess inventory (most important)
Sell-through (next most important)
Stranded inventory (not as important)
In-stock inventory (least important)
If you click through to the "Performance" tab on your Inventory Dashboard, you can see a breakdown of your scores for each of those four subcategories. The subcategory scores are shown both as a numerical score and as a sliding scale with green, yellow, and red zones to indicate whether the score is healthy or needs improvement.
The big question now is "How can I improve my IPI?" Again, Amazon isn't absolutely clear about how to improve the IPI, but we can make some deductions about how to improve based on the information they provide in the "Performance" tab. Generally speaking, you want to do everything you can to make sure you don't have stale inventory just sitting at the warehouse taking up space for months on end. Amazon expects sellers to either reduce their inventory relative to sales OR change the pricing strategy for inventory at their warehouses.
The number one thing I want you to take away from this section on IPI is that Amazon wants you to prioritize your efforts to improve your IPI score (really, to improve your actual inventory performance, not just a made-up score) by prioritizing the activities related to these Top Influencing Factors in that order.
Focus first on cleaning up your excess inventory – Amazon really doesn't want you to have excess inventory taking up space at their FBA warehouses. Next, focus on improving your sell-through rate, by taking action on the inventory items that aren't selling fast enough. Dealing with stranded inventory and in-stock inventory recommendations should be matters of secondary priority compared to those first two factors. I'm not saying that stranded inventory and in-stock inventory aren't important – I'm saying that if those bottom two scores are perfect but the first two stink, your IPI isn't going to improve over time like you want it to.
So how do you improve these individual percentages and rates so that your overall IPI score will improve? You follow the recommendations Amazon gives you right there on the page.
Again, seems simple, but it took me talking to an Amazon employee before I realized that Amazon really is trying to help us sellers out with this information. They're not trying to trick us or cheat us by assigning us an arbitrary score and threatening us with a penalty if we don't improve. They're giving us specific action points to take on each individual inventory item.
As an example, check out the Manage Excess Inventory tab from your Inventory Dashboard.
For each item on that tab, there's a dropdown menu at the far right of the row where you can see recommendations for how to improve that inventory, including these suggestions:
Edit listing
Create sale
Update product settings
Improve keywords
Advertise listing
Lower price
Create removal order
Every inventory item is unique, so you won't necessarily want to handle each one the same way. You'll need to think through many factors to decide what's the best way to deal with that particular item – but the main point is that Amazon is giving you some suggestions for how you can get this item out of your excess inventory list and improve that component of your IPI score.
Another new-ish feature of these suggestions is that Amazon is now including a link on some items where you can "Improve recommendations." If you click the link for that item, it will bring up another dropdown menu where you can offer feedback about why you think their recommendations might not be the best idea in this instance. I'm really impressed with how Amazon is trying to make this process as fair as possible in an automated situation where a lot of AI is involved in making business decisions. It's not a perfect system, but they're striving to improve it.
Here are more suggestions for how to deal with each component involved in improving your IPI score:
On this tab in the Inventory Dashboard, you can sort your inventory by the number of days it's been at the FBA warehouse. I suggest sorting by each time period (starting with the oldest) and then addressing each item with the actions Amazon recommends. For example, sort by the column for 365+, and follow the suggestions for each item; then sort by 271-365; and so on. Amazon's recommendations for these items typically are similar to what you'll see on the Excess Inventory tab (edit listing, update product settings, etc).
Make sure you check for stranded inventory on a regular basis and do what it takes to resolve the problem that stranded it. You may need to edit the listing to provide more info, or you might have to create a removal order. Amazon will give you 30 days to resolve an issue with stranded inventory before it becomes classified as unsellable and must be removed from the FBA warehouse.
On the Restock Inventory tab of your Inventory Dashboard, Amazon shows you their recommendations for keeping inventory in stock so that customers will be happy and buy it from you. You can either follow their recommendations and restock inventory according to their suggestions, or you can choose to "Hide recommendations." We have chosen to keep our in-stock inventory score at its peak by hiding all restocking recommendations.
Now that we've covered our top suggestions for how to improve your IPI score, I want to conclude with reminding you of Amazon's reason for even giving us these scores in the first place. Amazon's goal is for their FBA warehouses to be fulfillment centers, not long-term storage centers. They want us to send in inventory to FBA that will sell in a reasonable amount of time and make their customers happy. They don't want us to send in inventory that sits for months or years without moving.
The IPI score is Amazon's way of helping us see problem areas in our inventory and ways we can improve its performance. They're not trying to penalize us needlessly. They're not trying to cheat us. Believe it or not, they want our FBA businesses to be wildly successful, and the IPI score is designed to give us important data about how to improve our businesses. Sometimes it can seem like information overload, and other times it can seem arbitrary. But Amazon is a data-driven company, and this IPI score is one way they are attempting to provide FBA sellers with data they believe will improve our overall businesses. It's in our best interest as sellers to learn to interpret that data and put their suggestions into practice.
The next question you may be asking is, "What happens if my IPI is too low?" In Amazon's guidelines, they state that the IPI will be evaluated every three months for professional sellers:
"If your Inventory Performance Index is less than 400 six weeks before the end of the quarter, you will be notified of your potential storage limits. If your Inventory Performance Index score is still less than 400 at the end of the quarter, those limits will apply for the next quarter."
You should expect to get an email from Amazon on or round the following dates to let you know where you currently stand in regards to your IPI:
November 15 – Your IPI update for Q1 storage
February 15 – Your IPI update for Q2 storage
May 15 – Your IPI update for Q3 storage
August 15 – Your IPI update for Q4 storage
Note: the email that Amazon sends you has the subject line: "FBA storage limits adjustment alert." I've been getting the same email once every quarter for a few years now, and that subject line still gives me a quick scare. I see that subject line about "storage limits alert" and the thought races across my mind, "What did I do wrong! Why are they limiting me?" but that scare is over in a few seconds when I read the email telling me I will not have storage limits for the upcoming quarter.
Now, if you don't have your IPI above 400 by the dates listed above, then your IPI will be checked again in 6 weeks (right before the next quarter starts) and you'll have those 6 weeks to improve your IPI to Amazon's standards. If you don't get your IPI above 400, then you'll have FBA storage limits for that upcoming quarter.
They also state that quarterly storage limits are based on three factors:
your sales volume
your historical Inventory Performance Index scores
available fulfillment center capacity
Nowhere in the guidelines does Amazon give specific numbers for the actual amount of potential storage limits sellers face if their IPI is too low. In seller emails Amazon has stated they expect the storage limits to affect fewer than 5% of their third-party sellers, who hold 25% of all seller inventory at Amazon fulfillment centers.
The storage limits will be divided between four storage types:
Standard-size
Oversize
Apparel
Footwear
If Amazon gives you a storage limit, you will no longer be able to create shipments for a storage type until your inventory drops below the limit for that storage type. If you send more inventory to an FBA warehouse than your storage limitations allow, Amazon may refuse your inventory at the fulfillment center. Also, inventory over the storage limits will be charged an Inventory Storage Overage Fee of $10 per cubic foot for the amount over your limit, along with any applicable monthly or long-term storage fees.
For more information on understanding your Amazon IPI and storage limits. Or check out this detailed explanation from Amazon on IPI. Note that both links in this paragraph require a Seller Central login before you can access the pages.
Related: A Seller's Guide to Amazon Inventory Performance Index
Amazon Restrictions – How to Get Ungated on Amazon
When it comes to selling on Amazon it can be frustrating to find a profitable item, only to find out soon that you are restricted from selling that item. Whether the item is in a gated category, a gated sub-category, or a gated brand, these restrictions can really slow down your inventory sourcing momentum. But seeing that you are restricted from selling an item on Amazon doesn't mean that's the end of the story. There are multiple ways you can get approved to sell most items on Amazon, and I'll share with you those strategies in a moment.
In the past, there were many different paid services that offered to help people get approved to sell in certain categories on Amazon. Recently, however, Amazon has updated the way they decide which items individual sellers on Amazon can sell, so most category approval assistance programs have been closed down. Instead of just having specific categories that are restricted, there are now also sub-category restrictions, specific brand restrictions, and even specific ASIN restrictions. So when you see you are restricted from selling an item, it could be because the category is restricted, the sub-category is restricted, the brand is restricted, or the ASIN is restricted for you.
It seems to be that newer Amazon sellers are restricted from selling items much more than experienced sellers, but you don't need to let that get you discouraged. There are ways you can apply and get approved to sell in these restricted categories, brands, and/or ASINs.
To find out the best ways to get approved to sell restricted items on Amazon. Check out the YouTube video below where I explain the best strategies for ungating on Amazon. These are the strategies that are working right now as I type this sentence. Really, go watch the video. It's only 10 minutes long and will answer all of your questions on the best ways to eventually get approved in selling almost any restricted item.
When you've watched the above video and you're ready to seek approval to sell restricted items on Amazon, go to the following links to get started:
Start the category approval process – Pick a restricted category, read through the requirements, and then click "request approval."
Start the brand, sub-category, or ASIN approval process – Sign in to Seller Central. Hover over "Inventory," click "Add a Product," and in the "List a New Product" box, enter the brand name, sub-category, or specific ASIN you'd like to sell on Amazon. If the item that comes up has a "Sell Yours" button, then you're already approved! But if the specific item has listing limitations, there will almost always be a link to "request approval." Click on that link and you'll either be denied, approved, or told what additional steps (invoices, letters from manufacturers, application fees, etc.) are required for approval.
What to Do If You're Denied Approval for a Restricted Brand
If you apply for approval and you're not instantly approved, don't worry – the story is not over. Denial or a request for more info doesn't mean you can't apply again in the future. As you sell for a longer period of time on Amazon, your seller metrics (including return rate, seller feedback, and other metrics) will build up to the point where you qualify for approval in more categories and brands. It just takes time for Amazon to see that you are a solid, dependable FBA seller.
If you are denied a quick approval by Amazon, be sure to set a reminder to go back and reapply 3 to 6 months in the future. Many times, you will be automatically approved later down the road because you have improved your seller metrics or gained longevity in your selling account.
Make a habit of regularly going into Seller Central and checking your active applications to see if you can reapply and get a quick approval. I recommend setting a reminder on your calendar every 3 months to go in and check the status of these applications and reapply where necessary.
Here's how to find your active incomplete approval applications so you can quickly reapply:
Log in to Seller Central.
Under the "Inventory" tab, click "Add a Product."
Scroll down to the "List a new Product" box you'll see a line that says "To manage your selling applications, click here" and click the link.
You should see which applications are still in draft form, and you can click to go to the application. You will receive either a notification of your approval, a denial, or a request for more info again.
If denied, make a reminder on your calendar to come back in a few months and check your drafts again to see if you can get auto-approval next time.
 Let me tell you just how easy this process is – as I was working on this chapter, I went to Seller Central to check on my selling applications and make notes on the steps I listed above. While I was making notes, I clicked on my drafts and was given instant approval on two applications I originally was denied on just this past week. One was for a particular ASIN and the other was for a brand. It really can be as simple as clicking a few times and you get approval if you have sold for a longer period of time and have better seller metrics!
This formula requires patience over several months of time, it requires consistency in building up your selling metrics and developing a good track record on Amazon, and it requires discipline to go back and check your applications on a regular basis. But if you stick with it, you should be able to get approval for more and more products to sell on Amazon, and you should see an increase in your sales and profits as your inventory expands.
Using Scoutify to Get Approved to Sell Restricted Items on Amazon
By now you probably know that I highly recommend using InventoryLab (to organize your and streamline your Amazon business) and Scoutify (to make the absolute best retail arbitrage sourcing decisions), but did you know that Scoutify also can help you get quickly approved for a restricted brand?
Say you're out sourcing for profitable inventory at Target and find a profitable toy that is currently restricted for you. Remember, a restriction is not a dead end, but a speedbump. Here is how Scoutify makes getting brand approval so easy right there in the Target toy aisle.
At the risk of sounding too basic, the first step in the process needs to be checking to see if you're even restricted from selling an item on Amazon. Right there in the Target toy aisle, you can easily check whether or not you're restricted before you purchase an item to resell.
Scoutify makes it super easy to instantly see if you're restricted from selling an item, so long as you're logged into Seller Central within the Scoutify app (you can do that easily by clicking on the settings button at the far right and then clicking the "Log in to Seller Central" button). If you scan an item and the big red "Restrictions" button does not appear, then you're approved to sell that item and there are no restrictions for you. But if you scan an item and the big red "Restrictions" button does pop up, then you have at least one restriction for that item.
When you click on the big red "Restrictions" button, Scoutify will tell you what conditions you're approved to sell and which conditions you're restricted from selling. Sometimes you'll find out you are approved to sell an item in New condition, but not in Used condition. Other times it will be the other way around. Still other times will show you that you're not approved to sell that item in any of the possible conditions.
Once you know you're restricted to sell an item, you can tap the orange "Research" button within Scoutify, and then scroll down and click on the "Amazon Restrictions" link which will take you directly to the correct Seller Central page to apply.
Again, sometimes the approval process is quick and easy – just click that you want to apply for approval, and you will automatically be approved. Other times Amazon will ask you for more information or documentation as part of the approval process.
If you keep getting denied approval to sell a restricted item on Amazon (or you don't want to wait to get approved), there is another option you have to make some good money on selling restricted item now: You can always sell that item on eBay. Scoutify also comes to the rescue here and makes it super-fast to find out if an Amazon restricted item is also profitable on eBay.
More Help on Getting Approved to Sell Restricted Brands
I don't usually promote ungating services in the current Amazon climate. Many of these services offer advice that is not congruent with the guidelines on Amazon and could get a seller's account suspended. That being said, I have come across a few ungating services that actually give you real help that does not break (or even bend) the Amazon guidelines:
Amazon Fee Changes
With any type of service you use, eventually the fees will go up. This is a natural part of business and should be expected. Most of the time, when Amazon increases their fees, the fee increase is very small, but can add up for the seller who has more inventory sold from or stored in an Amazon warehouse. In fact, sometimes Amazon will increase a fee in one area, but decrease a fee in another. Amazon almost always announces a few months ahead of time that fees will go up. For example, in December Amazon might send out a notice that storage and shipping fees would increase starting in February of the following year. In this case, they made the announcement well over two months ahead of time.
Amazon always gives plenty of lead time when they announce their fee changes. This gives you the opportunity to adjust your business model if necessary. Also, be sure to read the entire email from Amazon concerning fee increases. You don't want to miss out on a valuable piece of information. Sometimes, Amazon will offer free removals for a short time right before fees change. If ever they do offer free removals, you want to be sure to know about it and take advantage of those offers.
When Amazon notifies you of upcoming fee increases, be sure you read the announcement carefully enough to thoroughly understand the changes. Remember that with these fee changes, Amazon is not out to get you. It surprises me how often I see other Amazon sellers complain on social media about fee changes as if Amazon were out to destroy them as a seller. No, Amazon does not want to put you out of business. The truth is that Amazon loves you doing the work of supplying inventory for their customers, but as with everything in life, as the cost of living goes up, so does the cost of everything else. It's a natural part of business and should be expected.
The bottom line is this: If the fee increases (which are usually just pennies per item) hurt your business in a detrimental or devastating way, then maybe you need to be sourcing inventory with better profit margins.
Slower Sales & Lower Sales
February is one of the slowest sales months for Amazon sellers. The reasons are many, but I'll highlight the biggest ones so you can be prepared.
 The Q4 spending spree is over. People buy a lot during the months of November and December… and continue to buy a lot thanks to gift cards come January. But once February hits, the reasons to buy have dwindled down, resulting in slower sales.
 It's a shorter month. Yes, losing even two or three days of sales can make February seem like a really low sales month.
Thrift stores don't get as many donations in February. In the January chapter, I told you how most thrift stores are overrun with tons of fresh inventory because of the huge number of people organizing their homes and donating their unwanted items to thrift stores. Well, come February, those people are not donating as often and the number of possible items to source from thrift stores is much lower than usual.
It's rare that retail or online stores put items on clearance come February. Most stores will have big post-Christmas clearance sales in December and January, but by the time February comes, good clearance sales are pretty rare. When it's harder to find good clearance items on sale, then it can be harder to send large quantities of inventory to Amazon. Less inventory to send to Amazon can lead to slower sales.
March/April Dates to Prepare For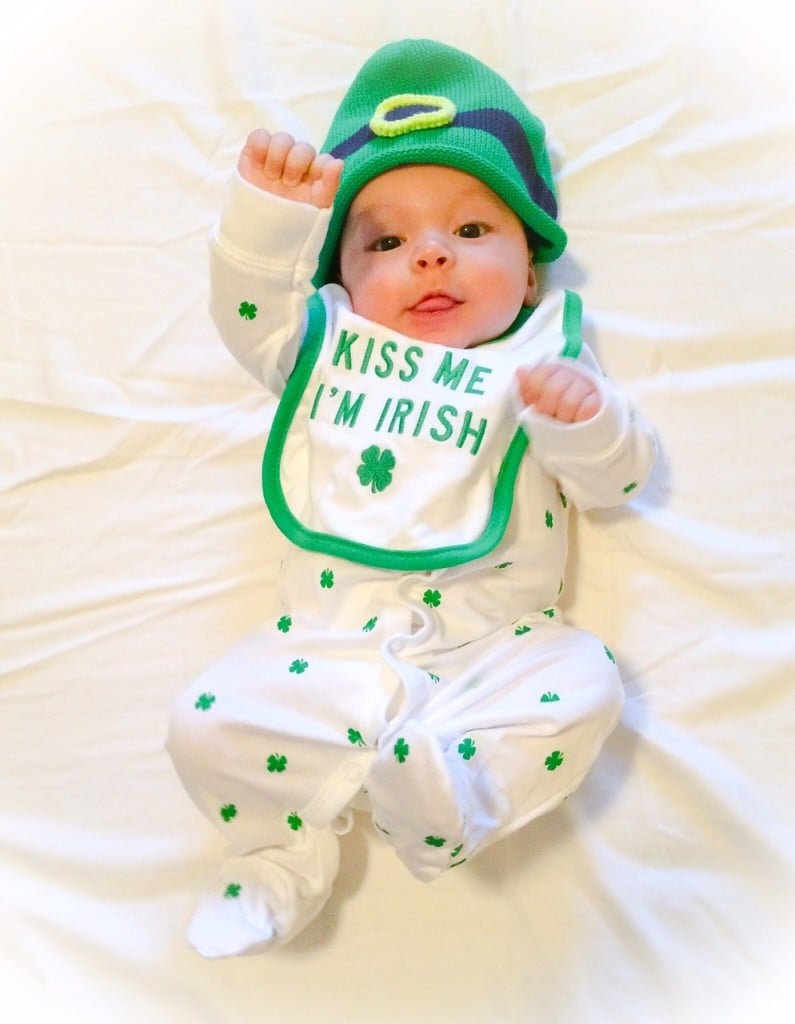 Do you feel lucky? If you want to have a successful St. Patrick's Day, be sure that all your lucky green items are all ready to be sent to Amazon. You may have some St. Patrick's Day bundles, four-leaf clover necklaces, or "Kiss me, I'm Irish" t-shirts, but if they are not listed on Amazon right now, you might miss out on the sale. Get those items to an FBA warehouse as soon as possible. The sooner you have them in stock, the luckier you'll be to get the next sale!
Another event that occurs in March that you need to prepare for is Spring Break. Many people who live in cold-weather states like to travel to warmer areas of the world for spring break. Maybe they'll visit the beaches of Florida, cruise the Caribbean, or venture to any other warm-weather destination. They'll need to buy some items that might not be available in their local retail stores when there's still snow on the ground. This is where you come in. You can have exactly what they need waiting for them to buy on Amazon.
Easter is another holiday that you can be getting ready for. There are many ideas for Easter basket bundles, as well as other Easter-themed items. Easter usually occurs late March or April. Again, be sure you have your items listed before the holiday even gets close.
Iced in? Do this when you can't get out to source! (Updated 2023)
Some Amazon FBA sellers might get iced in this time of year. The roads are far too dangerous to get out and source, or it might even be completely impossible for you to get out of your home. Regardless of the case, you still have some things you can do to help improve your FBA business.
Here are some ideas for when you can't get out to source:
Online Arbitrage – Buy online and (once the weather clears up) they'll ship it to you so you can process it and send it to Amazon. For some quality training on online arbitrage, check out Chris Green's book Online Arbitrage, The Selling Family's course The ABCs of Online Sourcing, or our blog post The Perfect Starter Kit for the Online Arbitrage Beginner.
Online Arbitrage + a Prep Center – You can also source online and then ship your items to an Amazon prep center. Prep Centers can receive your inventory, prep it (poly bagging, FBA labels, etc), and ship it to Amazon for you. There is a fee, but tons of FBA sellers use their service to skip the processing side of the business. We use two prep centers (Brown Box Ninja and MyPrepCenter) and wholeheartedly recommend them both. They have the fastest turnaround (from receiving shipments to shipping prepped inventory out to Amazon) that I've ever experienced. They are not only fast, but very thorough and professional. I can't recommend them enough.
Reprice – As long as your ice storm hasn't knocked out your internet, you can still manually reprice your items. Another option is to look into using an automatic repricer. Signing up for an automatic repricer has increased our revenue big time. In fact, our sales literally doubled the first month of using a repricer.
Removal Orders – While you are repricing, you might come across some items that you've decided probably won't ever sell. Maybe it's a book that was a 400,000 rank when you bought it, but now is a rank of 7 million. Based on your competition, maybe you think this book might not ever sell. Open up a removal order and either have the item removed or destroyed. Note: I have had books sell that ranked over 7 million. It's super rare, but still happens. Just do whatever you feel is best for your business.
Learn – There are so many great books out there that can help you improve your FBA business. You can also spend time learning more about selling on Amazon by listening to podcasts, watching videos, taking online courses, etc. There are hours and hours of content you can consume to help you improve all aspects of your online business. You can also look into investing in one of our Full-Time FBA courses. Just be sure to reference the final pages of this book where you'll find many coupon codes to use on our resources.
Deal with Returns – If you're like me, then sometimes you'll have a stack of Amazon returns in your garage or closet (or both) that you need to deal with. Maybe there are some returns that can be sent back in to Amazon (either still new or maybe to try to sell in a used/collectible condition). Maybe you have some returns that the customer says were defective that you realize were not defective at all – and you want to make sure Amazon knows you were not selling a defective item. Or maybe you have a return where a customer returned an item that is not the actual item you sold, but a used version that the customer thought they could return in the place of a new item (yes, that happens, and it's not-so-affectionately called the switcheroo). No matter the case, now is a good time to go through your returned items to see how to best respond.
Rest – Really! Sometimes we entrepreneurs are so focused on our business passions that we forget to take care of ourselves. Taking regularly scheduled time off is so important to our physical, emotional, and even spiritual survival.
Related: 6 Steps to Take When an Item is Returned to Amazon
Conclusion
Most FBA sellers will be happy when February is over. It's usually one of the slowest months when it comes to sales and profits, but you can still find many ways to make February profitable. Work hard, try new things, read new books, reprice older inventory, and be sure you avoid those long-term storage fees. Don't worry… spring is around the corner, and increased sales are starting to bud!
Get A Year in FBA – $20 off!
This is just a sample of one chapter in Stephen's Year in FBA book which is an invaluable resource for Amazon sellers. You can buy the book now from Full-Time FBA. Plus, use promo code EXPRESS20 before Friday 14 Feb 2020 and save $20.
Special Offer
There's never been a better time to give Amazon repricing software a go. With a free 14-day trial, 30-second sign-up process, no commission and no long-term contracts, there is no reason not to at least give it a try.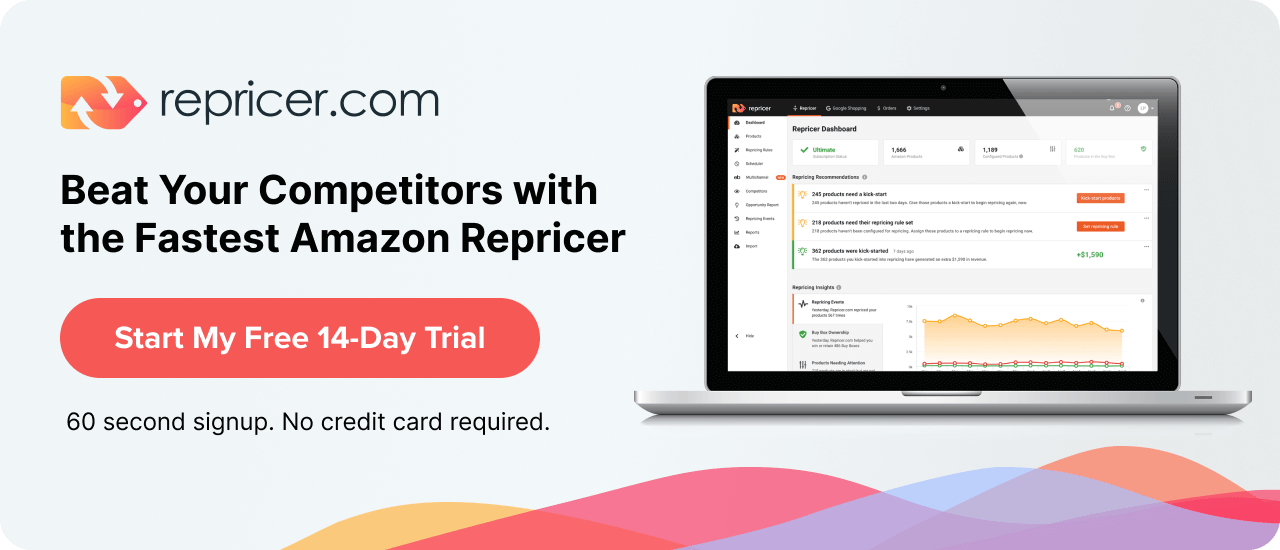 About the author:
My name is Stephen, and I love my job! I get the honour of working for myself, at home. I've been using Amazon FBA since 2011 and have been able to completely support myself and my family almost from the beginning.
On my FBA blog, we talk about what it takes to make FBA a full-time job https://www.fulltimefba.com
Read more from this author: