When it comes to running a successful online business, deciding what to sell on Amazon FBA is one of the most important factors for consideration and is vital to your future business success. You cannot simply pick a random product to sell because a product that you think will sell on Amazon FBA may not necessarily be of interest to other consumers at all.
Let's face it, you might just have a weird sense of taste or style! But with nearly 400 million individual products being sold on Amazon, how can you possibly know which products are most likely to give you a return on your investment? Well, that's where research and considering product criteria are critical.
The main point you should remember when deciding what to sell on Amazon FBA is that it is a 'price-driven' marketplace. In other words, people visit the website intending to seek out the best deal on products.
This means that whatever you plan to sell on Amazon FBA must be attractive to your target audience and often in a particular price range, so you must understand the identifying criteria to follow when you are deciding what to sell on Amazon FBA.
Since FBA (Fulfilment By Amazon) was introduced back in 2008, it has been an absolute game-changer for Amazon sellers. So it's unsurprising that many successful sellers are firm fans of the service.
FBA allows Amazon sellers to store large amounts of stock and have all their order picking, packing and shipping dealt with remotely from Amazon's vast warehouses.
Amongst other things, this allows sellers to concentrate on different aspects of their business rather than having to deal with day to day administration.
But the question is if you are selling on Amazon FBA, should the products you choose to list differ from those that you might decide to sell if you were managing and shipping orders yourself?
The simple answer is no! Amazon FBA makes the process simple, but the criteria for what to sell on Amazon remains the same.
What to Sell on Amazon FBA: Product Criteria
You may not realise this, but there are some precise criteria you should follow to ensure you research and select the best products to sell on Amazon FBA. For starters, although it's tempting, you should not try to sell well known or designer branded products.
Amazon is not the place to do that! Amazon is, of course, the platform that best lends itself best to the sale of own branded products at competitive prices.
Most Amazon buyers are genuinely not interested in purchasing big brand-named products, they are interested in buying a decent product that looks the business and comes at a low cost to them.
This strategy, however, does mean you will potentially be going head to head against other sellers offering similar products, which is why along with specific product criteria, you should also take the 'similar but better' route.
In other words, by all means, sell the same product, but make sure it is listed under your own brand name, and you offer something a little extra. The extra doesn't have to be something big, just faster shipping or a better product listing and overall service. So, let's have a look at the most important criteria you should consider when you are deciding what to sell on Amazon FBA.
Choose a Selling Price Between £10 and £50
Any product you list and sell below the £10 mark is unlikely to make you any kind of decent profit. You will need to sell in huge volumes, which isn't necessarily a problem when using Amazon FBA, as your storage, packing and shipping will be dealt with for you, but actually ensuring you achieve volume sales is another matter.
You'll need to be a marketing whizz at promoting your product, and at that price, it's unlikely you'll have a unique product, so competition will be super fierce.
On the other hand, if you sell your product for £50, there is the potential for more profit, assuming you have researched and sourced the product correctly, and you will need to sell fewer.
The good news is that any product selling for less than £50 is within the 'impulse buy' price range! In other words, your buyer won't need to think very hard about making the purchase.
Between £10 and £50 is a small enough amount for buyers to make a quick decision, which is precisely what you want as it means more sales for you!
Choose a Small and Lightweight Product
The heavier and bulkier your product, the more complex the shipping. This applies even when it comes to selling on Amazon FBA. Although they will store your product for you, the amount of space it takes up in their warehouse is an important consideration, especially if you choose a slow-selling product, as you'll then be charged extra storage fees.
You will also need to take into account the shipping costs, initially from the manufacturer and then later when it is fulfilled by Amazon FBA. The bigger and heavier the product, the more those costs will be. Remember, many buyers will expect free shipping even if they are not Prime members.
So, your ideal product should be small and lightweight, and you should avoid products that are easily damaged, so steer away from products that contain glass or delicate parts.
Private Label Your Product
Gone are the days when unbranded generic products sold on Amazon FBA! Right now, the more profitable option is to private label your products – in other words, brand them as your own.
Private label products are simply goods created by one company and branded and sold by another company. The usual process is to get your branding done at the manufacturing stage, although you may decide to source unbranded products and then simply label them with your own brand yourself – this is the cheaper (but less professional) option.
Choose a Non-Seasonal Product
It makes sense to want to achieve year-round, steady profits when you sell on Amazon FBA so avoid seasonal products where possible. For example, you should not choose to sell Christmas lights, Valentine's Day gifts or products that can only be used during one season, for instance, paddling pools, ski accessories, and so on.
If you have a large inventory of products, by all means, add seasonal products to achieve additional sales, but they should not be your main product line as seasonal fluctuations will occur.
Choose an Uncomplicated Product
When considering what to sell on Amazon FBA, a popular go-to category is Electronics. The reason for this is that it's popular with buyers looking for goods and so is seen as a profitable niche. But, the electronics category has enormous potential for customer issues too. Products can break down, contain restricted products like batteries and can generally cause headaches if you pick the wrong product.
The same can be said for clothing and footwear products that may require you to stock a variety of colours, sizes and styles. You should also steer clear from certain foods, toys, batteries and beauty products because these often require certifications or paperwork that is challenging and frustrating to obtain.
Choose a Product that Solves a Problem or Fulfils a Need
The straight facts are that if your chosen products don't address a need or solve a problem, they will be harder to sell! While people 'browse' on Amazon, it's rare they are not searching for a specific type of product.
For example:
The self-conscious teenager looking for an acne cure
The worried parent searching for an affordable baby monitor
The new artist seeking competitively priced pencils
The fashionista trying to find a high fashion handbag
But actually, if you think about different types of products, you'll find that pretty much every product can be placed in the problem solving or fulfilling a need category, even though sometimes it's tenuous and you may have to be a little creative.
Source a Quality Product from a Reliable Supplier
Every product you decide to sell on Amazon FBA should be sampled, checked and tested by you. Sourcing your products from a reliable supplier and ensuring they are the best quality is an essential part of the research and source process when deciding what to sell on Amazon FBA. So, get to know your supplier and build rapport because the products that you sell will ultimately be your responsibility!
Choose to Sell a Niche Product
This is the single most important piece of criteria you should follow when you are selling on Amazon FBA. Your products must be niche specific. Not just category-specific! Once you have decided on the category you will sell within on Amazon FBA, let's say pets, for example, you then need to dig deeper into the niche, and deeper and deeper until you uncover a highly specific product that is selling well but has low competition.
Related: 5 Ways to Find a Profitable Amazon Niche
What Products Should You Sell on Amazon FBA?
First, which are the most profitable categories. This is a tricky one, but the most popular categories are:
Apparel (Clothing and Accessories)
Beauty
Baby
Books
Electronics
Fitness
Garden & Outdoors
Health
Home & Kitchen
Jewellery
Toys
Should You Sell in Popular Categories?
Yes! These are the most competitive categories, and you are probably thinking it will be harder for you to sell within them. You are right of course, and that's why it's you must follow the criteria discussed earlier.
The trick is to narrow down your research to a point where the product you are going to sell is so specific that competition is drastically reduced, and you only attract serious buyers who are looking to purchase your product right away.
Apart from avoiding products that require certification, are unregulated or require multiple sizes/styles, then you should feel free to research products in these categories. Remember, generally, buyers don't just 'browse' on Amazon. They are almost always looking for something specific, and this is where you offer that specific thing to them!
Examples of Products to Sell on Amazon FBA:
Each of these final potential niche products is a highly specific product that also fits all the criteria.
Niche Product #1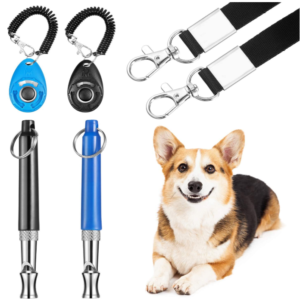 Image credit: Amazon
Main Category: Pet Supplies
Sub-Category product: Dogs
Sub-Sub-Category Product: Training & Behaviour Aids
Sub-sub-sub-category Product: Training Clickers
Niche Product: Training Clickers with Wrist Strap
Niche Product #2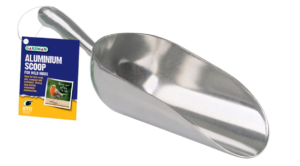 Image credit: Amazon
Main Category: Garden & Outdoors
Sub-Category product: Bird & Wildlife Care
Sub-Sub-Category Product: Bird Feeders
Sub-sub-sub-category Product: Feeder Accessories
Niche Product: Bird Feed Scoop & Cleaning Brush
Niche Product #3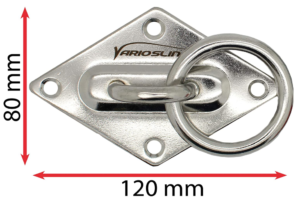 Image credit: Amazon
Main Category: Sports & Outdoors
Sub-Category product: Fitness
Sub-Sub-Category Product: Strength Training Equipment
Sub-sub-sub-category Product: Suspension Trainer
Niche Product: Suspension Trainer Wall Mount
So, you should now see how this works. Instead of deciding to sell in the fitness niche and then choosing to sell suspension trainers which are highly competitive, by selling an accessory relating to suspension trainers you still get the high demand but from a much more specific niche market.
It's the same with pet supplies. This is a hugely popular category, but every man and his dog (excuse the pun) will be selling standard dog training aids. Instead, narrow it right down to a very specific training aid, for example, the clicker, and then narrow it down further to clickers with a wrist strap!
Final Thoughts
Choosing what to sell on Amazon FBA is a decision that will have significant implications for your Amazon business. You must do your research and ultimately offer competitively priced products aimed at a specific target audience to ensure your success.
Offering products of value is more important than ever, so by following the criteria outlined in this article to refine your product ideas and uncover specific niche products you will be in a better position for your Amazon business to become profitable.
It's also crucial that you note that whatever changes Amazon implements, and whatever happens with market trends, the criteria for uncovering what to sell on Amazon FBA will always remain the same!
If you're interested in keeping what you sell on Amazon competitively priced 24/7 then we have the tool for you. Repricer, Amazon and eBay repricer makes it easier to win the Buy Box and increase profits. Try it free for 14 days, no credit card needed.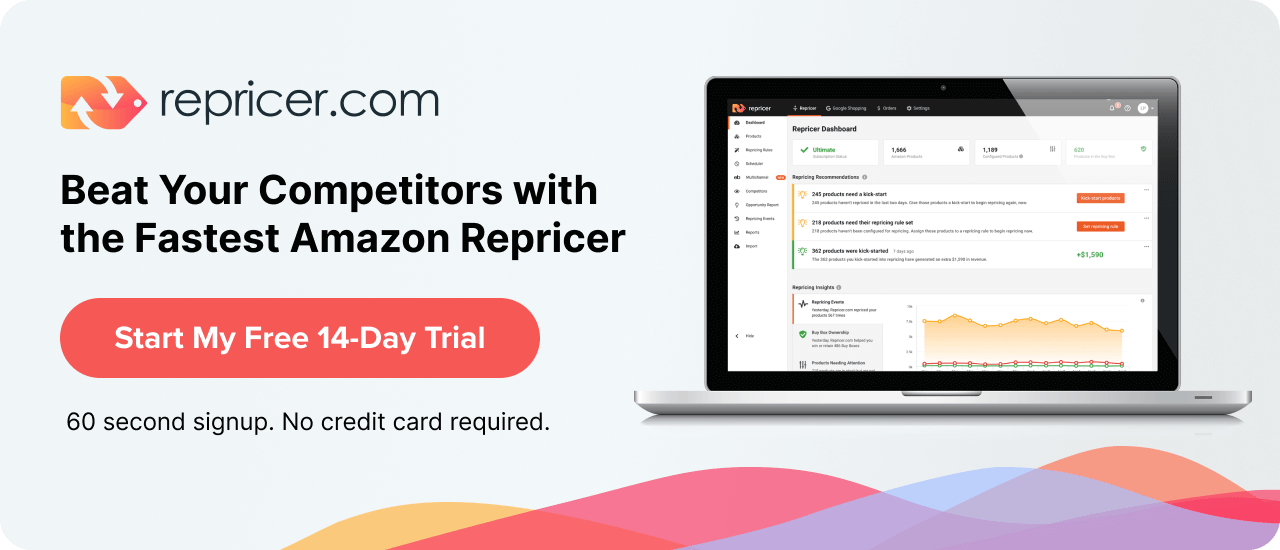 Related: The 5 Most Profitable Product Categories for Amazon FBA