Amazon is an incredibly competitive marketplace with more than two million third-party sellers jousting with each other and Amazon itself, for sales. It's highly competitive but also highly rewarding, with the right resources and strategies. 82% of sales on the marketplace are placed via the Buy Box (even higher for mobile sales) — so winning the Amazon Buy Box on a consistent basis is a shared objective amongst all sellers. So, how can you win the Buy Box consistently? Let's find out…

Overview
1. How to Win the Amazon Buy Box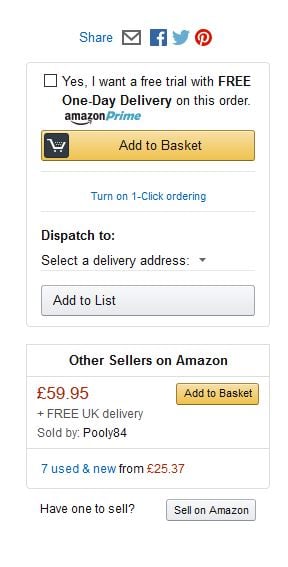 Amazon is never likely to reveal its algorithm for awarding the Buy Box. However, assessing data and information that Amazon makes publicly available we know that the algorithm looks at a number of different metrics associated with your seller performance. These factors vary in terms of importance, with some more important than others such as price.
If Amazon considers you Buy Box eligible, you will be a seller who has consistently reached the high standard it expects when fulfilling orders and providing excellent customer service.
Price is one of the most important factors when it comes to awarding the Buy Box and getting sales. Price too high and you won't get any sales but price too low and you might not make a large enough profit to reward your efforts.
A common Buy Box myth is that the lowest seller will win the Buy Box. This is categorically not true and there are many examples where a higher price has been awarded the Buy Box.
Automated Amazon repricing software like RepricerExpress allows sellers to experiment with pricing to ensure you're obtaining your maximum margin (profit) from your sales. This process is known as price optimisation.
A good repricing solution will allow you to automate price changes continuously to ensure you stay ahead of your competition.
Feedback is another key factor when it comes to awarding the Buy Box. You should have a seller rating of 95% or higher—that equates to just one bad review from every 20 reviews left by customers.
Preventing negative feedback is just one area where automated Amazon feedback software like FeedbackExpress can help sellers.
You'll receive an alert via SMS/email when you receive negative feedback allowing you to deal with it before it potentially becomes an issue.
Inventory levels and keeping products in stock is also very important when it comes to the Buy Box. Showing Amazon you can consistently fulfil orders will help you win the Buy Box consistently.
Once you've received the order, the next part is ensuring you get it to the customer on-time or ideally, ahead of schedule. Amazon usually expects orders to be with the customer within two days of an item being purchased.
Being part of the Fulfilment by Amazon (FBA) program can help you excel at fulfilment. Plus, you'll be exempt from any negative reviews which are related to shipping and fulfilment, as Amazon is responsible for this side of things with FBA.
Related: Amazon Buy Box Factors
One of the big benefits of using FBA is that the items you're selling can become Prime eligible. Prime members spend over twice as much as non-Prime subscribers as you can see from the graph below.

You will find more statistics at Statista
In late 2015, Amazon introduced Seller-Fulfilled Prime for sellers with a large warehouse and ability to deliver orders two days on their own.
Related reading: Amazon Buy Box Eligibility Explained
2. Boost Your Buy Box Chances with Great Feedback

When it comes to feedback on Amazon, buyers can give you a rating from one to five stars depending on how they viewed the interaction.
Amazon only takes into account the most recent feedback when determining your eligibility for the Buy Box. So, if you've made mistakes a couple of months ago but have since pulled up your socks, you've just put yourself in the running for a Buy Box again.
But the opposite is also true, where if you've historically been a strong seller but recently ran into a rash of bad reviews, you'll have to set your sights on the next month.
Related reading: Amazon Feedback Software 101

3. Buy Box Strategies
In order to win a share of the Buy Box, sellers need to improve their metrics without forfeiting performance in other areas. It is not always easy to find a perfect balance between customer support, price and other factors.
Here are three strategies that may help you increase your Amazon Buy Box ownership.
Know your metrics: Sellers should be aware of their seller metrics in Amazon Seller Central.
Focus on the important metrics: Some sellers might choose to focus on those metrics which have the most impact on the Buy Box.
Improving seller performance: Use Amazon Seller Central to identify the key areas of performance you need to improve on.
Related reading: Pricing Strategies for Amazon Sellers
4. Amazon Buy Box Mistakes to Avoid
Every Amazon seller aspires to win as many Buy Boxes as possible.
As touched on earlier, it's a common misconception that having rock-bottom prices is one of the best ways to inch closer to a Buy Box. While it's true that lowering your prices to be more competitive does more often than not result in more sales—it's more how you price your items compared to your competition and how your seller performance compares.
Amazon will look at the top sellers within a certain product and rank you all according to its criteria. If you all perform exactly equally, then you'll share the Buy Box in equal time allotments throughout the day. But if you outperform your competitors, then you may get the lion's share of the Buy Box for that day.
And, on some occasions, no one wins the Buy Box.
Amazon won't award a Buy Box if the listed price is ludicrous, as in it's unreasonably higher than the List Price. Items that come from a manufacturer or supplier will have their full retail price listed underneath the product name on the details page and it's never a good idea to go above it. Cut your prices below your competitors if you must, but never go above the full retail price.
5. How Amazon Repricing Works
Most sellers will start out selling on Amazon manually repricing a small number of SKUs before turning to an Amazon repricing solution to increase efficiency and profits.
How Amazon repricing works is explained in the steps below. Amazon sellers using RepricerExpress will set-up customised pricing rules dependent on their business goals.
Repricing begins when one of the top 20 sellers for an exact item changes their active price, handling time, shipping price, and offer.
Amazon then sends a message to RepricerExpress with price, dispatch and seller information for the top 20 sellers.
RepricerExpress analyses the top 20 seller information and runs your repricing against them, calculating your new price.
RepricerExpress performs checks on the new price to ensure it's within your minimum (floor) and maximum (ceiling) values.
Once verified, RepricerExpress uploads the new price to Amazon for processing.
Amazon's Pricing Error System checks the new price against your Amazon Seller Central account minimum and maximum prices.
Once your price is verified, it is listed as your current price. This repricing all happens continuously in a 24 hour period, 7 days a week.
Watch how Amazon repricing works in 90 seconds.
6. Getting Started with Repricing Software
With any software, there is a learning curve. If you're going to use repricing software it's worth taking some time to become familiar with the settings and features. We highly recommend starting off in Safe Mode as this won't affect your live listings. Once you do get up and running, you'll find the software is very user-friendly.
To make it easy, we created a five-step guide to getting started.
Identify your competition.
Set your min and max values.
Aim for the Buy Box and know how it works.
Set your pricing rules.
Sync you inventory to your repricer.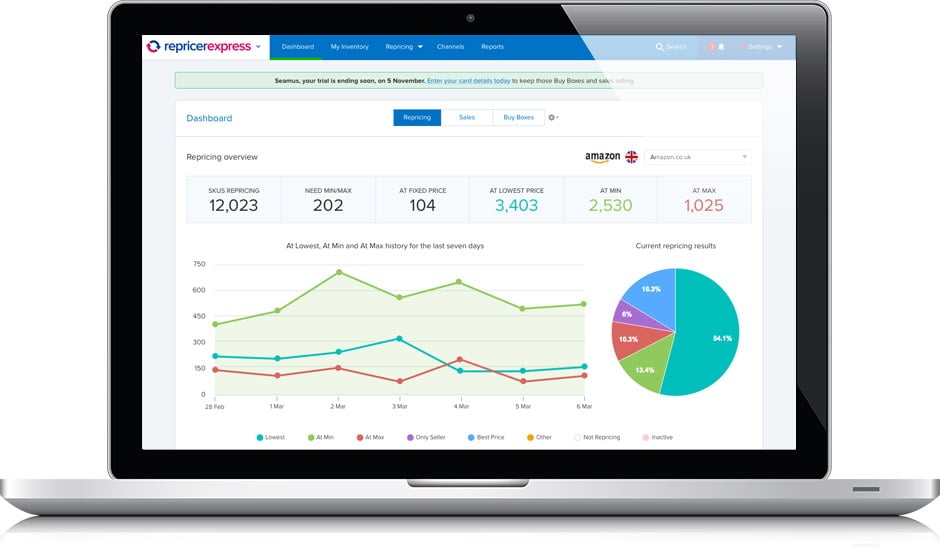 Related: A Seller's Guide to Amazon Repricing Software
7. How to Avoid a Price War on Amazon
As we mentioned above, the price has a big effect on your Buy Box dreams but it isn't the only factor. Far from it.
We recommend you avoid a price war on Amazon. As well as harming your profits, buyers may come to expect these rock-bottom prices from you all the time.
We also tend to associate (rightly or wrongly), low price with low quality. So instead, we advise sellers to focus on keeping your prices competitive and profitable. Unless there is an actual reason why you want to sell your product quickly and at a small margin (FBA fees due shortly, old stock etc.).
You've probably heard the saying, slow and steady wins the race. And, this is true on Amazon. Those sellers taking the short and fast route could be a road to disaster.
Building a solid foundation and gradually growing will serve you much better on the Amazon marketplace. Becoming a top Amazon seller usually takes years of hard work and dedication.
With RepricerExpress, you can now auto-detect price wars and long-term FBA fees.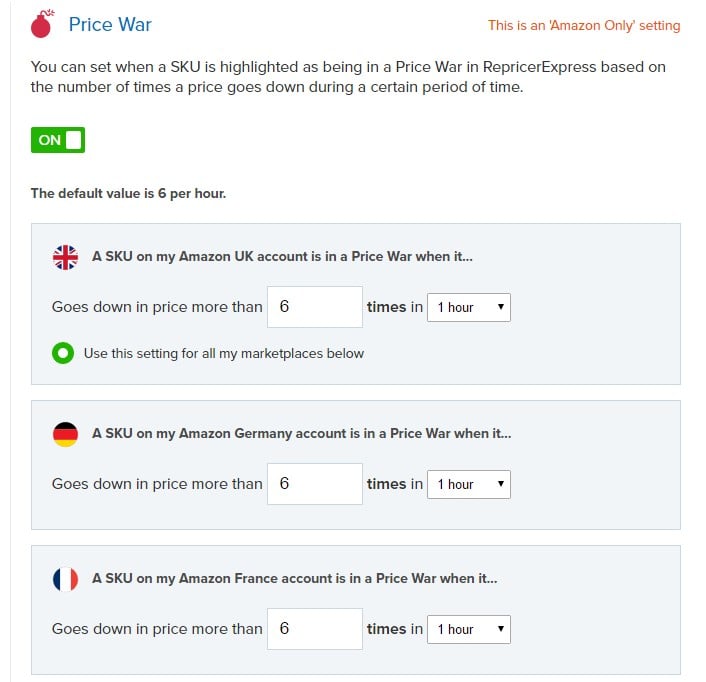 8. How to Compete with Amazon
Amazon's a mighty big beast to tangle with, but that shouldn't stop you from trying. Truly successful sellers will take anyone on—but only when they're prepared.
The first step in taking on Amazon is becoming what they're not, a purveyor of, well, everything. Narrow down your product inventory to just a few select items and add on all the special touches that Amazon neglects, like email marketing campaigns and content marketing.
Amazon has a pretty good customer support system in place but it's not exactly personalised or custom-made, and that's how you can compete with them. Do things like answer the phone yourself and greet shoppers, take extra little steps that aren't normally part of your business plan.
Again, we have to give credit to Amazon for having really amazing shipping options. You can get things as soon as the end of the day if you're willing to pay for it. There's probably no way you can go head-to-head with it, but you can create your own style of shipping that's uniquely yours.
And what about if Amazon catches on to what you're doing and tries to oust you? Well, here are some things to try out.
If you can create an ironclad agreement with one or more suppliers where they'll sell to you under the proviso they won't also sell to Amazon, you're hedging your bets that you can't be taken over. On a really big scale, this is an example of a trust where big companies team up to block out the little guys; you're doing it on a smaller scale to block out Amazon from your radar.
Closely tied to the above point, try and work out a contract with your suppliers where there's some flexibility. One of the best ways of doing this is to have a stock exchange in place, where if Amazon suddenly starts selling Product A that's in your inventory, you can exchange Product A for Product B (similar, but not exact) to merrily continue along.
Final Thoughts
Repricing manually is suitable for small sellers but the most effective pricing method is automated. You'll also save time that you can spend on other areas of your business or just relaxing.
RepricerExpress, Amazon and eBay repricing software, offers a FREE 15-day trial to allow sellers to try out the software. No credit required. Sign up today and start repricing like a boss!