Guest post by Luke Filer, Amazon FBA seller
I had been using Amazon's repricer (Amazon Automate) since I made my first sale back in August 2018. Sales were good, and I was making some decent money.
"Get repricing software set up" – read my calendar entry from three months ago.
Trying out third-party repricing software was always one of those things that I knew I needed to do at some point, but like everyone else, I was just too busy.
That changed back in July when I realised it had been three months since I planned on testing out some repricing software!
How time flies… Fast forward a month and I'd bitten the bullet. Oh, how I wish I'd done this back in April!
Sales had increased by 75% from July to August!
Not only did my sales increase, but the average return on investment (ROI) also increased, which meant my overall profit increased significantly!
In this blog post, I'll outline what repricing software I went for, and why it's better than Amazon Automate.
Repricing Software vs Manually Repricing
If you're an Amazon seller, you'll know that prices on Amazon are continuously changing. You'll also be well aware that to have a good chance of getting sales, you need to be winning the Buy Box.
One of the biggest factors in determining who wins the Buy Box is the seller's price. Therefore, I'm sure you understand why being competitively priced is important.

The problem with pricing manually is that once you change your price, someone using repricing software (also called a repricer) can nearly instantaneously change theirs.
So, unless you're sat there manually changing your prices all day, you're not going to be as competitive as a seller using repricing software.

As a result, I'd recommend that all sellers use repricing software, especially if you have over 30 items.
So now you know you should use a repricer, but which one should you use?
Amazon Automate vs 3rd Party Repricers
Amazon Automate is free, so why would you pay for one of the alternatives?
Think of a repricer like an accountant. What you spend on the repricer should return exponentially more than the cost of it.
For the reasons listed below, I chose RepricerExpress, and my results makes me wish I had done this sooner.
However, Amazon Automate may be right for you if you're a new seller.
Related: RepricerExpress Vs Amazon Automate
Here are the three key reasons based on my personal experience why I decided to make the switch from Amazon Automate to RepricerExpress.
1. Amazon Automate only Reprices Downwards (and Quickly!)
A huge issue with Amazon Automate is its inability to price upwards. This means that once your price decreases, it will not go back up, unless you do this manually.
Furthermore, it won't decrease your price incrementally. If you and another seller are using Amazon Automate and one/both sellers are using a rule to price lower than the competition, you will both go to your minimum price straight away.
On the contrary, RepricerExpress will reprice upwards if your repricing rule calls for it. This is huge as it means the average price you sell at will be higher with RepricerExpress compared to Amazon Automate.
Here's an example. You are competing with another seller who is, like you, priced at $20. Once this seller sells out, you won't just stay at $20 (with Amazon Automate, you would). If your repricing rule calls for it, you will then move up in price to the next competitive seller, at $21 for example, generating you more profit per sale, whilst still getting the Buy Box.
Related: How to reprice upwards on Amazon FBA.
2. Ability to Compete with MF Prime (Seller Fulfilled Prime) Sellers
Amazon's repricer treats standard merchant fulfilled and merchant fulfilled prime sellers the same. This is an issue because you are more likely to win the Buy Box vs a standard MF (merchant fulfilled) seller than compared with a MF prime (seller fulfilled prime) seller.
Furthermore, as an FBA seller, you can often be priced up to 13% higher and still win the Buy Box vs a standard MF seller. For these reasons, it is important to be able to distinguish between standard MF sellers and MF prime sellers in your repricing rules.
RepricerExpress allows you to do this, Amazon Automate doesn't.
3. Fully Customisable Pricing with RepricerExpress
The pricing rules you can create with Amazon are very limited in comparison with RepricerExpress.
As explained above, to price your items effectively, you need to be able to set rules to determine how you price against different competitors.

Whilst you have to set a minimum and maximum price with both Amazon Automate and RepricerExpress, the latter allows you to change your minimum and maximum depending on the rule you choose.
By default, I set the minimum price of all my items to a price which would generate a 15% ROI. My default rule, however, changes this minimum to a price which generates around a 20% ROI. I then use Automations (see below) to change to another rule, if necessary, which decreases my minimum price and reprices more aggressively.
RepricerExpress also allows you to customise your repricing based on a bunch of other factors, which I have explain in the below video.
Sleep Mode
RepricerExpress offers a feature called "sleep mode", which helps you to increase the amount of profit you make. Amazon Automate offers no such feature.
In simple terms, sleep mode will reset your price to your max during a period when you aren't going to be getting sales anyway (e.g. I use between 2.00am and 4.00am). 
This is an optional feature, but I recommended it as it means that some of your items will sell at a higher price than if you weren't using it.
Automations
Automations are probably my favourite feature in RepricerExpress, and they save me so much time each month.
Essentially, Automations allow you to switch between your rules when triggers are hit. Such triggers include sales, Buy Box performance, stock levels, price changes, and a lot of other factors.

For example, a trigger could help you avoid a price spiral. You would use a price change trigger (if the price changes x amount of times in a time period). This would then move you to a rule you've created where you set your price slightly higher than the competitors. This means you will still get a share of the Buy Box, but you avoid the price tanking due to a "penny under repricer".
Automations don't exist with Amazon Automate; you would have to switch between rules manually.
I have three core rules set up for each marketplace I sell on which allows me to automatically price all of my items. Using Automations, I can switch between these rules automatically meaning that I now spend far less time repricing than I did with Amazon Automate.
Related: Using Automations in RepricerExpress
Conclusion
If you're just starting your Amazon selling journey, then Amazon Automate is a great free option to get you up and running. Once your inventory starts to build up, I highly recommend using a 3rd party repricer, like RepricerExpress.
I cannot speak for other 3rd party repricers, but during my first month of using RepricerExpress, my sales increased by 75%, my average ROI also rose, and I spent less time repricing.
Ready to increase profits?
RepricerExpress offer a free 15-day trial to get up and running and decide whether the software is right for you. No credit card information required.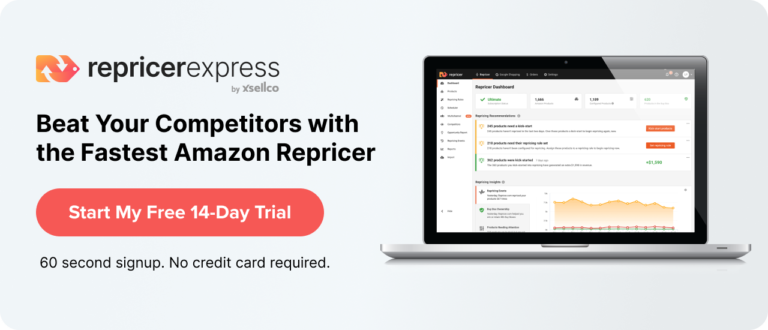 About the author:

My name is Luke Filer. I studied Accountancy and Finance at the University of Leeds and love playing cricket. I started selling on Amazon during the summer of 2018 and this year I'm set to hit six-figures on Amazon.
I'm grateful for the help I got from others when I started selling on Amazon. If you're interested in learning more and connecting with other sellers, check out the iGen Entrepreneur community on Facebook which I run.