Fancy increasing your online profits and growing your business? Then you should consider selling private label products on Amazon in 2023. It is one of the most lucrative and popular ways to sell on Amazon.
We see brand names everywhere we look. From Dyson to Apple, Adidas to Gucci, Pepsi to Cadburys. Brands are in stores, on billboards, on our televisions and radios, at sporting events. Even our children 'brand name drop' every other word.
So, it's easy to assume that only multi-national companies could ever establish their own brand. After all, how can the average Amazon seller establish a production line of uniquely branded products?
Well, it's easier than you might imagine because branded products are simply well-marketed private label products that have gained a reputation and a following.
What are Amazon Private Label Products?
Private label products are simply products created by one company which are then branded, marketed and sold by another company – and why shouldn't that be you?
What's more, one of the most lucrative ways to do this is to sell your private label products using Amazon FBA. From electronics to cosmetics, clothing to food, you could benefit from creating and selling your own private label products right now.
You won't need to convert your garage into a production line. You won't need to hire an inventor to create something new.
Private labelling simply involves researching and sourcing a product that is in-demand and already being manufactured in its unbranded state – which is how all products start life – and then you brand it (private label it) as your own.
The Advantages of Selling Private Label Products on Amazon
Those who decide to make a living by selling on Amazon often assume that it's the products belonging to existing brands that are the best products to sell to make money on Amazon.
While it's true that some Amazon sellers make a significant amount of money selling existing branded goods, particularly when using the dropship model, many times those sellers are the exception to the rule.
Competition can be fierce, and in some categories there are so many Amazon sellers of popular branded products all competing for the same business that profits can diminish until there is no profit at all. By sourcing white label products and then private labelling them, you will avoid this competitive arena altogether.
As well as the reduced competition, you can also benefit from other specific private label related advantages:
Increased profits. Generic, unbranded products tend to sell at lower prices within any niche, whereas branded products automatically command a higher spend from a consumer. So, by creating your own private label product, you will have the freedom and flexibility to accurately position yourself in the market. Be that at the top-end to attract a more exclusive audience, or somewhere in the middle to suit those buyers shopping for a deal, but with the reassurance that comes from a reliable brand.
Increased credibility. It's amazing how you can raise your credibility with the simplest of steps. By altering your Amazon or website name to match the branding on your products can convince a buyer to make a purchase. Tying your private label, branding and marketing together in as many different ways as possible subconsciously makes a buyer trust you and feel more comfortable spending with you.
Increased exposure. As well as increasing the comfort level of a prospective buyer, private labelling your products can lead to significantly increased exposure. When your product, packaging and your Amazon store all come complete with the same name, logo and colour scheme, an existing buyer will feel much more inclined to track you down to make a similar purchase in the future. Plus, they will have no trouble remembering who you are!
So, by purchasing a domain name and setting up a website that will tie into your branding, even if it merely points people to your Amazon presence will help you expand your business further.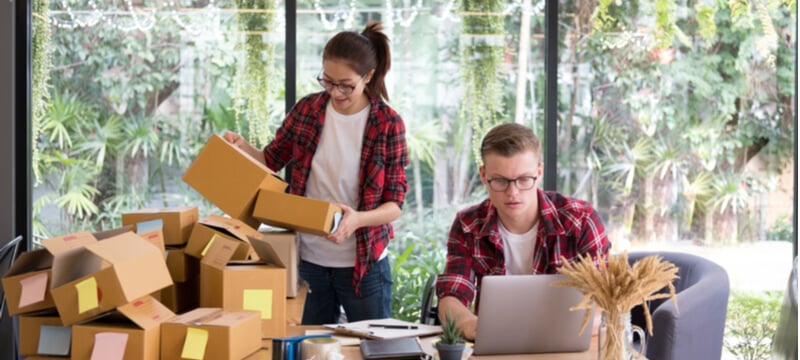 Related: How to Choose The Right Amazon Business Model
How to Sell Private Label Products on Amazon in 2023 (6 Steps)
1. Research Potential Products Suitable for Amazon Private Labelling
There is an array of products with the potential to private label, but you mustn't choose what you 'think' will sell well, but what is 'proven to sell well'.
This is a common mistake that Amazon sellers make when private labelling products, so make sure you don't fall at this hurdle and select products that are in-demand rather than ones that you like!
Consider and research potential private label products to sell on Amazon with the following attributes:
Small and lightweight, weighing no more than 1kg. This will help you save on shipping from the manufacturer and on Amazon fulfilment costs to your customers.
Non-seasonal. Avoid seasonal products (Christmas lights, Easter goodies, Valentine's Day gifts and seasonal clothing) as you need a product that will sell consistently. There's no harm in adding seasonal products to your core products once you have established your private label, but to start with, stick with year-round sellers.
Easy to sell. Some products such as toys, groceries and products with batteries can be tricky to sell, so it's best to avoid those that require certifications, legal compliance or reams of paperwork. Likewise, research products that do not have the potential to become faulty – electronics, for example.
Uncomplicated. While selling electronics items can be lucrative, they can also cause customer service issues if they are challenging to set up or use. This also applies to clothing products as you will be required to stock multiple sizes and colours and may have a higher instance of returns and exchanges to deal with.
The best place to research potential products that fit your private labelling criteria is Amazon itself. Utilise their Bestseller, Hot New Releases and Movers and Shakers lists. These are invaluable in allowing you to research the types of products that are currently popular, trending and becoming more in-demand on the exact platform that you want to list your products on.
Related: 7 Amazon Product Research Tactics You Need in 2023
2. Source Your Amazon Private Label Products
Dealing directly with a manufacturer is the direct route to securing a private label product. It's a daunting prospect for some Amazon sellers, but an essential part of the process. Alibaba is your ideal source for multiple manufacturer options, as is Global Sources, and these should be your starting points.
A slightly less daunting route for beginners is Alibaba's sister site, AliExpress, where you can order one-offs of thousands of product choices without directly corresponding with the manufacturer, apart from adding the product to your basket and paying online!
You won't get the best deals this way, however, it's an efficient way of procuring samples before you dive in with a full order.
Typically, when dealing directly with manufacturers, you should reach out to between three and five suppliers to allow comparisons, options and of course the opportunity to negotiate between suppliers.
Related: Wholesale Sources for Amazon and Other Online Sellers
3. Sample Products and Negotiate on Price
This is a very significant part of the process. Obtaining samples from your chosen suppliers is critical because ultimately, your reputation as an Amazon seller is at stake. By requesting samples, you have the opportunity to see and use the product you are considering as a private label product in real life, and you'll get to know the standard of quality.
Samples are not free – this is something you should be aware of. It's standard practice for suppliers to charge you – sometimes the full price of the product plus shipping, often shipping only – until they are dealing with you regularly. Many will knock the sample costs off your first order if you decide to work together.
Once you have received your product samples and are satisfied with the quality, you can complete your due diligence, check the supplier credentials and then start negotiations. Again, this can be a daunting prospect but remember that manufacturers do expect you to negotiate.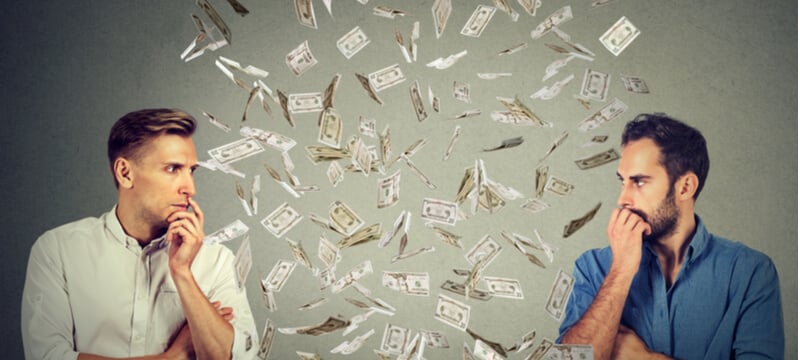 Negotiating ensures you keep your costs down and profits up, but you should be aware that the lowest price is not always the option you should go with unless of course quality, fulfilment and communication are top-notch too.
Instead, choose the supplier that excels in all areas and use the lower quotes you've received to negotiate a better deal with your selected supplier. Ultimately, you must be prepared to compromise – or even walk away.
At this stage, you should also speak with your supplier about your desire to private label your products. While it can be as simple as having a print shop produce some labels for you that you add to your product packaging (yes, that's still classed as private label), the ultimate strategy is to have your branding professionally added to your product at the manufacturing stage.
Both of these methods come with associated costs, and you must research this aspect during the product sourcing process.
4. Create and Design Your Private Label: Logo and Packaging
Some might argue that this should be the first step in the private labelling process. However, it actually slots in better once you have an idea of the product that you wish to private label. Branding experts will tell you that a brand is far more than just a logo, and this is true, but your logo and colour scheme are integral parts of your private label brand and should run through all elements of your business. Once you know what type of product you will sell, you will have a far better idea of your brand identity.
We aren't all gifted artistically, so you may wish to invest in a graphic designer to help you out. Designers are available on the freelancing site Upwork to help you affordably source an expert with whom you can discuss your brief. Think about the market area you will be operating in and the demographic you will target so that you get your private labelling right from the outset.
5. Create a Listing to Sell Private Label Products on Amazon
Once you have completed negotiations with your supplier, commissioned your branding designs and the manufacturing of your private label product is underway, this is the ideal time for you to create your Amazon listing and prepare to market your product to a ready-made audience of more than 197 million potential customers!
Research keywords for your product title, make sure you have high-quality images and write your bullet points ready for your description.
It's worth taking your time when writing your title and bullet points as these are crucial for your products to be found in the Amazon search results. Your title is one of the most critical elements to your Amazon private label product listing, and your keywords must be relevant to your product.
Place your keywords in order of relevance – so your primary keywords come first. These are likely to be the keywords that specifically relate to and describe your product, for example, if you are selling brown leather dog leads, then 'Brown Leather Dog Lead' would be your primary keywords. These will be followed by any secondary keywords that you wish to rank for.
Your bullet points should also reflect your keywords, be concise and include your products' strongest features and benefits. Images should be relevant, sharp and show your product from as many angles as possible. All of these things will help your customers in their decision to purchase your product.
6. Fulfil Your Amazon Private Label Product Orders using Amazon FBA
Finally, once your product starts selling, you'll need to arrange fulfilment of those orders. While you can do this yourself, as you are listing your private label products on Amazon, using its fulfilment service is the most straightforward and efficient way to fulfil your orders.
You will simply send your inventory to one of Amazon's warehouses, and they will store, pick and pack your orders for you then ship them to your customers. Amazon will also handle all your returns, refunds and customer service enquiries for you, so it's a time-efficient way of selling your private label products.
Selling Private Label on Amazon: Summary
Research products thoroughly
Deal directly with the manufacturer
Negotiate hard
Check supplier's credentials
Sample the products
Discuss branding with the manufacturer
Invest in quality design and branding
Create a compelling Amazon listing
Final Thoughts
You don't need any specialised training to sell private label on Amazon in 2023, merely some good research and negotiating skills alongside the determination to succeed. You could soon be building your Amazon private label business and compelling customers to come back over and over as they stay loyal to your very own brand.