Who would win the fight in eBay vs Amazon? This is a tricky one! Both eBay and Amazon are eCommerce powerhouses whose reputations go before them. They both rank among the top online shopping sites in the world, and between them make billions each year from millions of members. So is it any wonder that both are attractive platforms for sellers – both experienced and start-ups?
As established brands, most online shoppers are familiar with eBay and Amazon. Still, there was a period, around 10 years ago, when the question of "Where should I sell – eBay or Amazon?" wouldn't even have been considered.
Why? Well, because quite honestly, eBay would probably have won, hands-down at that time! For years, eBay was the most recognised place to sell online.
This was not only for second-hand goods, which is where it all started, but it was the perfect starting point for small businesses who wanted to launch quickly, with minimal start-up costs and a ready-made, devoted audience, accessible 24/7.
Then Amazon, initially known only for being the place to go for books, videos, computer software and CDs began diversifying further until the present day. They now stock products from A to Z as their logo suggests!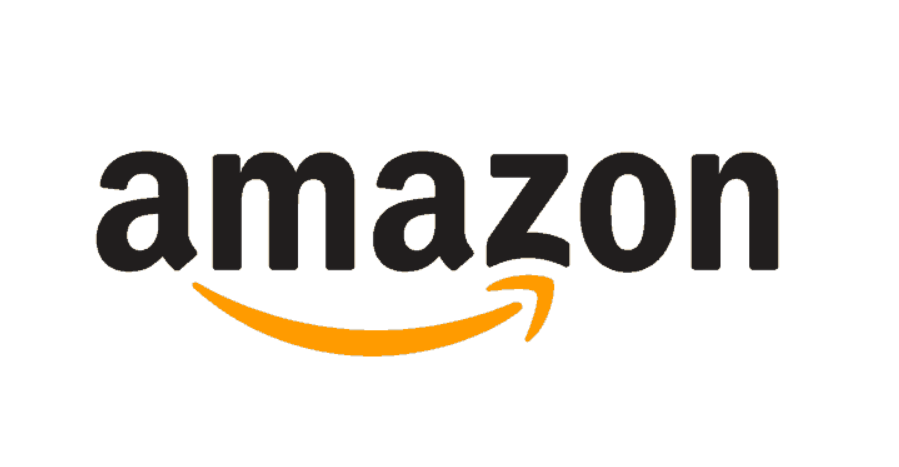 So, you can understand why for eCommerce entrepreneurs, it might be challenging to decide whether to sell on eBay or sell on Amazon.
As you would expect, there are arguments for both venues hence the debate. While they may appear to be in colossal competition – and they are to a large extent – for sellers, there are fundamental differences that should be taken into account.
So, on which of these two impressive eCommerce monsters should you choose to sell your products? Selling on Amazon versus eBay is an important decision.
Here are some questions we will attempt to address in this article:
What's the difference between eBay and Amazon?
Is Amazon better than eBay for selling?
What are the seller fees for each marketplace?
What are the communities that each marketplace has?
Is Amazon more competitive for sellers?
Are buyers loyal to eBay or Amazon?
Can you make more money selling on eBay or Amazon?
What can I sell on eBay and Amazon?
Is it easier to sell on eBay or Amazon?
Do buyers trust eBay or Amazon sellers more?
The Pros And Cons of Selling on eBay.
The Pros And Cons of Selling on Amazon.
What's the Difference Between eBay and Amazon?
First things first! Let's look at the main differences between eBay and Amazon. Unlike Amazon, eBay facilitates only third-party sellers. In other words, eBay does not have its own products.
Products from individual sellers or businesses are listed through either the auction format or fixed-price format, so the good news is, you will never compete with eBay themselves as they simply provide the marketplace!
Amazon does include third-party merchants, often private label sellers, alongside the sale of products from their own range – Amazon Essentials, which you may find yourself competing with.
Here there is no auction facility, so all available products are sold at a fixed price, just like a standard retail site.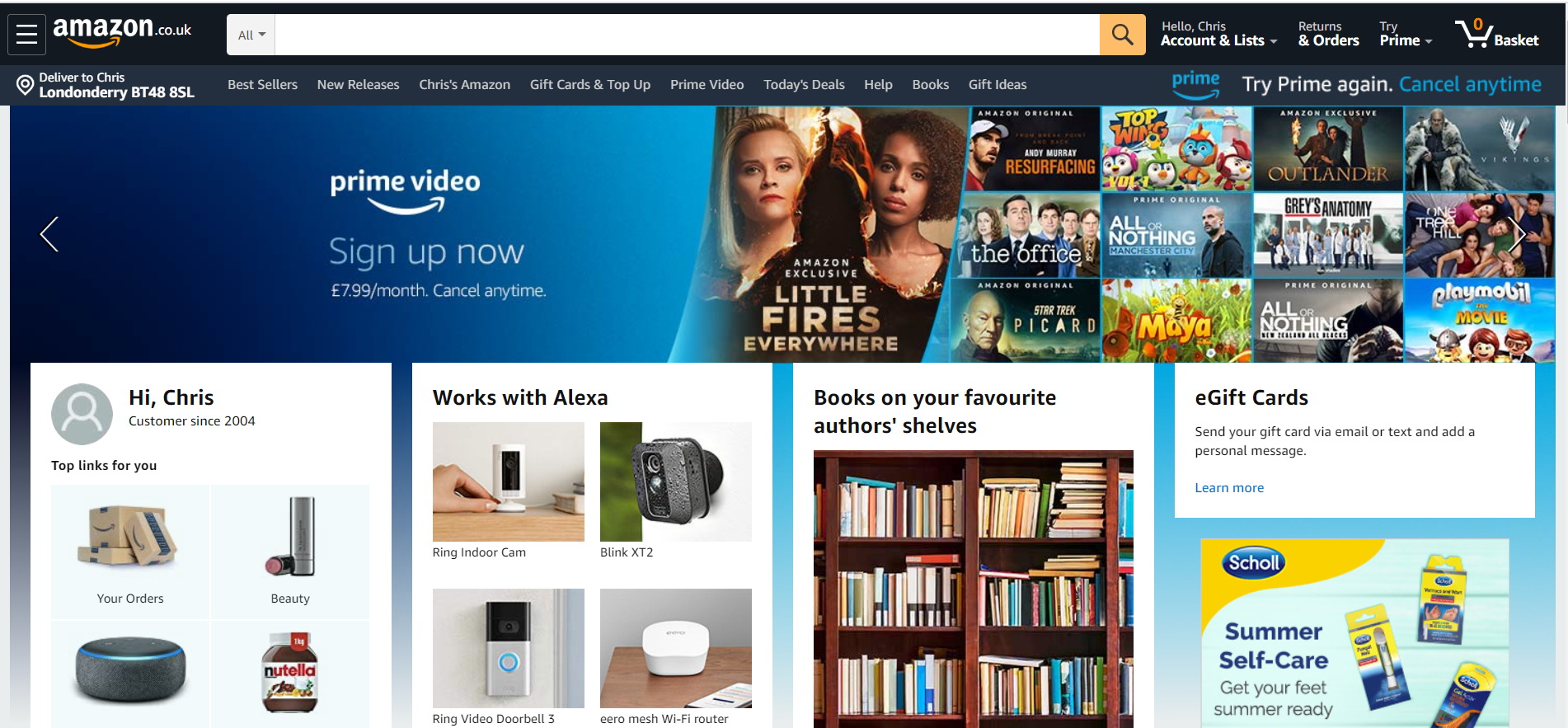 1. Is Amazon More Competitive For Sellers?
Not necessarily! Although Amazon has their own brand and eBay doesn't, so eBay in this respect is slightly less competitive. You will encounter competition on both platforms – this is a natural part of being in business.
Some sellers will offer low pricing to attract buyers and sell in volume, others will price higher, basing their sales on quality rather than quantity – this is always going to happen wherever you sell.
What's important is that you don't enter a 'race to the bottom' on either site!
Round 1 Winner: eBay as they do not sell their own branded products.
2. Are Buyers Loyal to eBay or Amazon, or Do They Buy From Both?
Well, eBay and Amazon audiences do differ as you might expect. There's no denying that eBay and Amazon both have a massive reach, but significantly each platform reaches a different type of audience!
Both have an international presence.
Amazon has 21 marketplaces worldwide; eBay has 23 global sites. Both receive vast numbers of visitors. Amazon gets more than 2 billion visitors worldwide each month. This equates to more than 24 billion visitors over 12 months.
In the 2nd quarter of 2022, eBay had over 138 million active buyers and about 2 billion daily transactions yet more than half of eBay's annual sales revenue comes from its 60 million buyers outside of the United States, setting it apart from Amazon in global reach.
But, in terms of demographics, Amazon buyers tend to be wealthier. Research reveals the average Amazon shopper is between 45 and 54 years old, married, with children and has a college education.
The eBay demographic consists of 57% males which you may find surprising, and 43% females. Of these 35 to 49-year-olds make up the largest group at 32%. However, these figures though mean nothing if you do not know your buyer persona!
Determining this will allow you to identify whether your audience is already active in these marketplaces and which marketplace they use predominantly. What's also interesting is that some buyers are indeed loyal to one platform or another!
Some will shop only on Amazon and never dream of buying from an eBay seller, others are eBay die-hards and believe that products on Amazon are likely to be more expensive! So, from a sellers point of view, is this true?
Round Two Winner: Draw! Loyalty will depend on your buyer persona.
3. Can You Make More Money Selling on eBay or Amazon?
If you are selling a product on eBay for a fixed price of £10 and your profit margin is 30%, you'll make £3.00 per sale. You'll need to sell in large volumes to make a decent amount from this one product.
If you choose eBay and list at auction, you are also at the mercy of your bidders, and you may not achieve the £10 price you hoped for. On the other hand, you may receive a final price of more than £10! Not so on Amazon!
Here you will always list at a fixed price and so will always know where you stand with your profit and will always sell at £10. This is why the fixed price model offered by both platforms provides some security and allows you to predict and keep track of your sales and profit. Then there are the fees to take into consideration.
Related: 5 Top Ways Increase Your eBay Sales in 2023
Generally, eBay charges a flat 10% selling fee (this varies per category), but this does not include payment processing fees via PayPal. These are typically an additional 2.9% + 20p. Amazon charges a typical 15% commission which includes payment processing fees as well. However, there will be additional fees to pay if you use their FBA service.
The thing is, your listed price, which will determine how much money you make, must take into account many factors, including:
The quality of your product. If your product is high quality and superior to your competitors and you ensure you get this across in your listings, the likelihood is that you can command a higher price – and achieve that price.
Your competition. If you have little or no competition and your product is popular you will make more sales – this stands to reason!
The uniqueness of your product. If your product is rare, is in demand, has a fantastic USP or stands out for whatever reason, you will make more sales!
Your brand awareness. If you have an excellent reputation on one or the other of the sites, you will be able to command a higher price for your product because you'll already have the trust of your customers. Alongside this, Amazon is great for selling your own branded products, and your business will thrive there if that is the route you take.
All these points apply to both eBay and Amazon. You may choose to price your products differently between sites, but ultimately, the amount of money you make will depend on your product, your branding, your profit margins and how well you list!
Round Three Winner: Amazon for its branding opportunities and slightly cheaper fees (excluding FBA)
Related: Your Guide to Amazon Seller Fees
4. What Can I Sell On eBay and Amazon?
When it comes to categories available on Amazon and eBay, there are similarities. Most noticeably, eBay does not have as many restrictions in place as Amazon. Of Amazon's 40 categories, 23 are unrestricted, and 12 require permission to sell.
These are known as 'gated categories'. The other five have some restrictions depending on the type of product. This is simply to stop counterfeits in some instances.
Other categories are season restricted – for example, toys and games over the Christmas period mainly to avoid an influx of sub-standard products.
On eBay, rather than restricted categories, there are lists of restricted products. Before you decide which platform to sell on you should check that your product or category is not restricted, prohibited or gated, but there is a massive range of potential categories and products for you to choose from.
Round Four Winner: eBay as there are fewer restrictions
5. Is it Easier To Sell On eBay or Amazon?
eBay is quicker and less complicated when it comes to listing your products and indeed selling and receiving payments. You can list in a matter of minutes, choose your listing format, and once your product sells, your eBay buyers' money will go directly into your PayPal account where you can then manually withdraw it when you need to.
Amazon also takes payments for you, but holds them for 14 days, before transferring directly to your bank account. It's a lengthy listing process, although still straightforward. Ease of sale will also depend on your product!
Generally, quality products that appeal to a mass market, such as new clothing, baby products, health and beauty items, nutritional supplements, fitness products and toys, are popular on Amazon.
On eBay, sellers can list used, unique, or unusual items alongside cheaper versions of products that might sell for low margins but in high volumes.
The real difference comes down to the fact that Amazon has the added advantage of their FBA service, taking all the hassle of storage, packing and posting out of your hands saving you a considerable amount of time and effort. Of course, extra fees are involved.
Round Five Winner: Amazon for their fulfilment service (FBA).
6. Do Buyers Trust eBay or Amazon Sellers More?
eBay, unfortunately, built a reputation for hosting scammers a few years back and in some respects, this has stuck a little.  The number of overseas sellers on eBay also does little to encourage peace of mind. However, "trust" on eBay has improved massively over the years because eBay now protects buyers if items don't arrive. Amazon is harsher on sellers should you fall foul of their rules and regulations. Suspensions regularly occur, and so from a buyer's perspective, this is where more trust has been built. Buyers know that should a questionable seller be touting products on Amazon, they will likely be dealt with quickly.  This, alongside their easy returns and refunds guarantee, puts them a step ahead of eBay.
Round Six Winner: Amazon for their safer selling platform
Related: Expert Advice to Overcome an Amazon Account Suspension
7.1 The Pros And Cons of Selling on eBay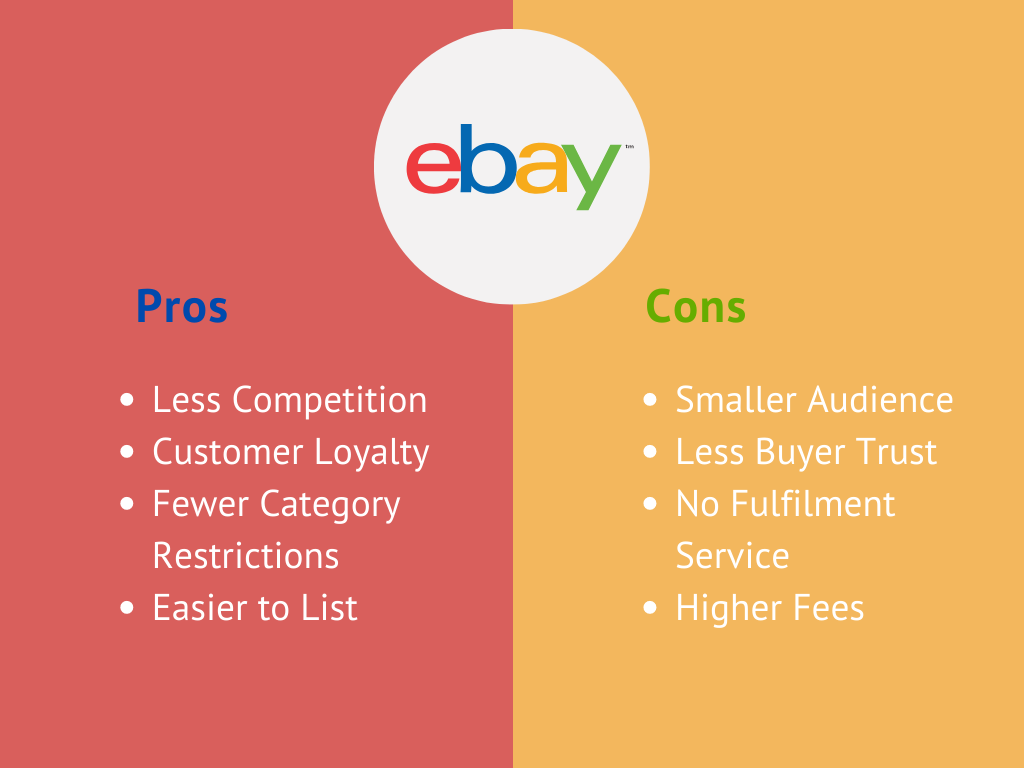 7.2 The Pros And Cons of Selling on Amazon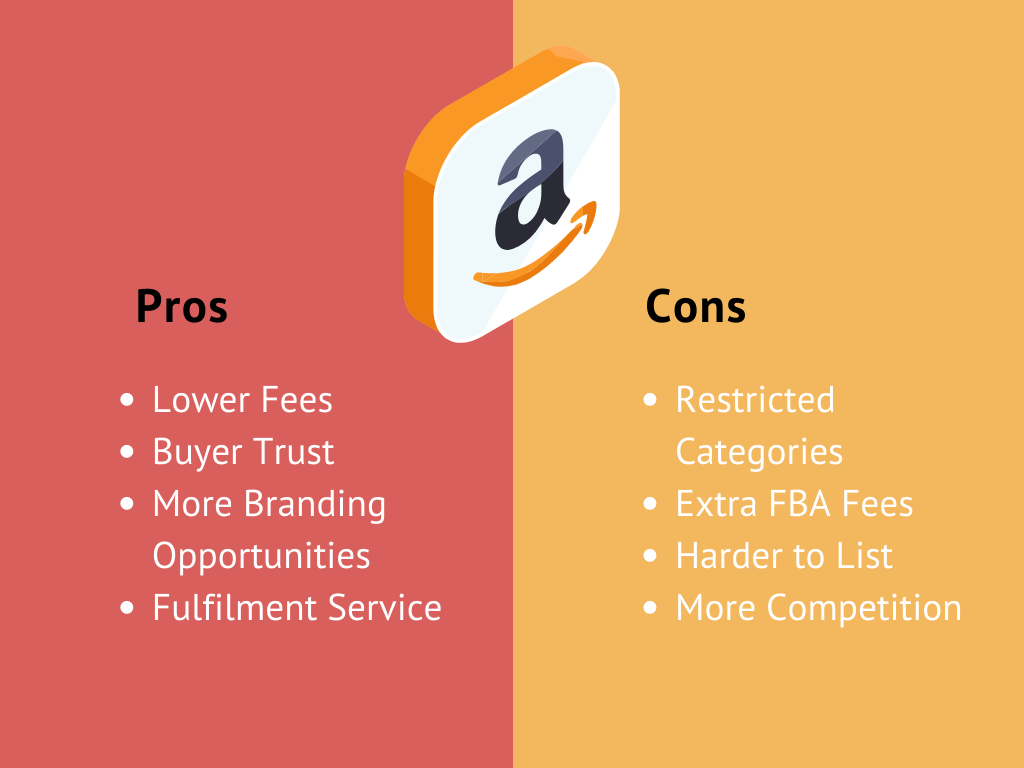 Overall: Who Wins – eBay or Amazon?
There is, unfortunately, no definitive winner!
While Amazon scores well for trust, loyal customers, lower fees, branding opportunities and their fulfilment service, eBay wins for competitiveness, lower fees, loyalty and fewer restrictions! It's a battle hard-fought, and ultimately, each marketplace has its own unique advantages and disadvantages.
However, you should not limit yourself to one or the other. Just because Amazon may appear to be a better fit for your products, doesn't mean you can't also sell on eBay.
Diversification is critical and by spreading your eCommerce presence across multiple channels is the safest way to protect your income streams and grow your business.
Ultimately, the decision can only be made by you, based on your business, strategy and products.
Final Thoughts
Whether you sell on eBay or Amazon or both, Repricer has you covered. Start optimising your prices and increasing your Amazon and eBay profits today with our free 14-day trial.

Related reading